Efficacious Tips to Manage Screen Time While Working From Home
By Nmami Life Editorial 22-Jun 2020 Reading Time: 5 Mins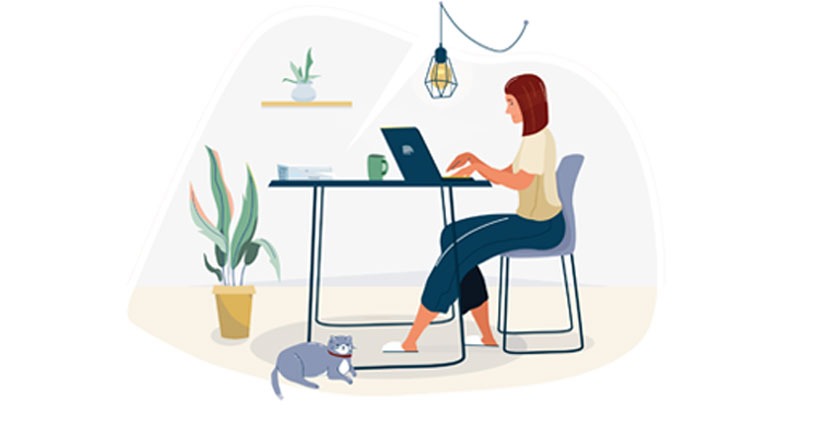 Do you even remember how your life looks like before you get involved in the world of screens? We bet that you don't! From work from home to Netflix and chill to endless chatting and surfing- we will never be able to manage the screen time and as a result, we end up spending most of our time on the laptops and mobiles. Prolonged sitting hours while working from home has become the norm nowadays, but do you even know what it can do to your overall health? It not only takes you closer to various health complications but also deteriorates your posture and makes you suffer from various pains and discomfort. Not only this, but it can also lead you to screen dependency disorder and put a strain on your mental health like nothing else. A lot of health experts said that elongated screen time and sedentary behaviour can break the total health while increasing the risks of obesity, stress, anxiety, poor eyesight and nutrition. It also affects cognitive health by making a person irritated and rude.    
Here are some easy tips to manage your screen time while you stay at home.
Set your limits: It is quite important to set a plan for the usage of screens while working from home. As you are working from home, you can take some breaks in between to calm your eyes or follow the 20-20-20 rule to break the continuous looking at the screen while relaxing your eyes. Meaningful screen usage will add up to your mental health, reduce the stress from your eyes and mind.   
Plan your day: While you are at home, plot your day! It helps you a lot in breaking your habit of indulging in screens. Managing your work and planning your day will let you know about your screen usage and therefore you won't indulge yourself in between scrolling or surfing (which we all do in between work) and reduces your screen time. This way your work won't suffer and you can effectively decrease your unnecessary screen time.
Broaden your activities: Once you plan your day, you definitely end up with some free time. You can utilise your free time in different types of activities to break the screen habits instead of wasting it by doing the scrolling. Indeed, we often see boredom as scrolling and to reduce that boredom it is quintessential to keep yourself busy in interesting activities. Home games, sketching, crafting or any other activity can divert your mind and ease out the stress and tensions if any.   
Reading is the best therapy:

Reading can help in distracting your mind from unnecessary scrolling and makes you focus more on real-life instead of reel life. Adding a habit of reading different and interesting books or novels can help you in managing your screen time while breaking your habit of scrolling in every 2 minutes.
Footnote
Detach yourself from social media and screens and attach yourself to real-life and activities. Do follow the above-written pointers to bring out the best in you and to keep your eyes and health happy. Do let us know what other things you do to manage your screen time?