Warm Barley Salad
By Nmami Agarwal 05-Jan 2021 Reading Time: 1 Mins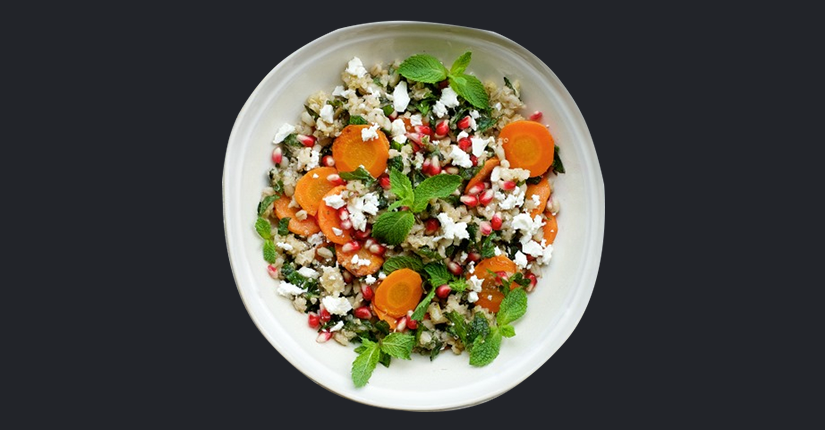 Warm barley salad is an amazing and relishing salad with the goodness of barley tossed with vegetables.
Nutritional Benefits:
Barley is rich in both soluble and insoluble fiber and therefore aids in proper digestion. The fiber plays an important role in order to get rid of chronic diseases thereby safeguarding overall health.
Ingredients:
20 grams Barley
20 grams cucumber
20 grams cherry tomatoes
20 grams bell peppers
20 grams onion
¼ teaspoon vinegar
¼ teaspoon thyme
¼ teaspoon oregano
¼ teaspoon chili flakes
5 grams olive oil
Per Serving:

Nutrition Info
Amount
Calories
87.8 kcal
Carbs
12.1 grams
Protein
3.1 grams
Fats
5.9 grams
Method:
Preheat the oven to 400-degree F. Place the chopped vegetables on the baking sheet and drizzle with olive oil. Allow to bake for 20 -30 minutes until vegetables turn golden brown.
In a hot pan cook barley until it becomes soft in consistency.
Take out the roasted vegetables and transfer the vegetables and cooked barley in the serving bowl.
Make a mixture of vinegar, oregano, chili flakes, thyme and toss it on the salad.
Your warm barley salad is ready. Serve and enjoy.
Over to you:
Warm barley salad is easy to prepare yet very relishing and colorful side dish to be served along with your main course.