What Happens to Your Body When you Quit Smoking
By Nmami Life Editorial 05-Oct 2021 Reading Time: 4 Mins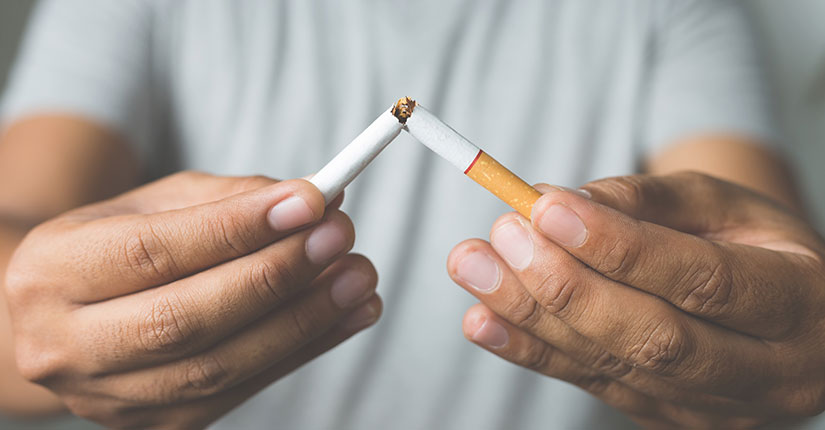 When a person decides to quit smoking, some people have only a few mild symptoms while others may not be able to even stop thinking about it and may return to the habit. Some are still successful in quitting but others find it harder. While withdrawal can be challenging, but it is important to understand the deal with the symptoms as signs that your body is recovering from the damage smoking has caused.
Several people find withdrawal symptoms disappear completely after two to four weeks, although for some people they may last longer. Symptoms tend to come and go over that time. Keep in mind that it will pass, and you will feel better if you hang on and quit for good.
Withdrawal Symptoms
Common symptoms you may experience during your recovery are as follows:
Cravings might develop and these may be strong at first, but they usually only last a few minutes. If you resist for at least a few days to months, they will get less powerful in time
Restlessness could cause trouble and may not allow you to concentrate on work or disturb sleep– these will pass as your body gets used to not smoking. Relaxation and deep breathing can help. It's also a good idea to limit your caffeine intake because when you quit smoking your body absorbs almost twice as much caffeine as usual, which can leave you feeling anxious, irritable and restless
Don't panic even if irritability, anger, anxiety, depressed mood is stuck for a long time, it is all normal. Just accept and stay firm on your decision over quitting.
For several weeks, there may be an increase in appetite and weight gain.
The person may also experience less common symptoms that include:

Symptoms like cold, coughing, sore throat and sneezing
Constipation
Dizziness or light-headedness
Mouth ulcers.
As time passes, these symptoms grow weaker, and you will think about smoking less. If you have severe or long-lasting symptoms, it is advised to take help from a health professional and discuss them.
Managing withdrawal symptoms:
Although withdrawal symptoms can be challenging, there are ways you can help yourself stay motivated:
Keep a list of reasons you have decided to quit ready and keep it handy for those moments when you're tempted to smoke.
Make plans and keep yourself busy.
Engage friends and family to help distract you from your cravings and keep you motivated.
Remember the three Ds:
Don't acknowledge your cravings. Delay acting on the craving for five minutes and it will pass.
Deep breathing
Drink water
Withdrawal can be challenging, but it is not impossible. Changing your routine can help avoid those triggers that tell your brain it's time for a smoke. Nicotine replacement therapy products or medication can help you quit smoking. It is suggested to seek a doctor's help.