Wholesome Multigrain Laddoo
By Nmami Agarwal 03-Nov 2021 Reading Time: 2 Mins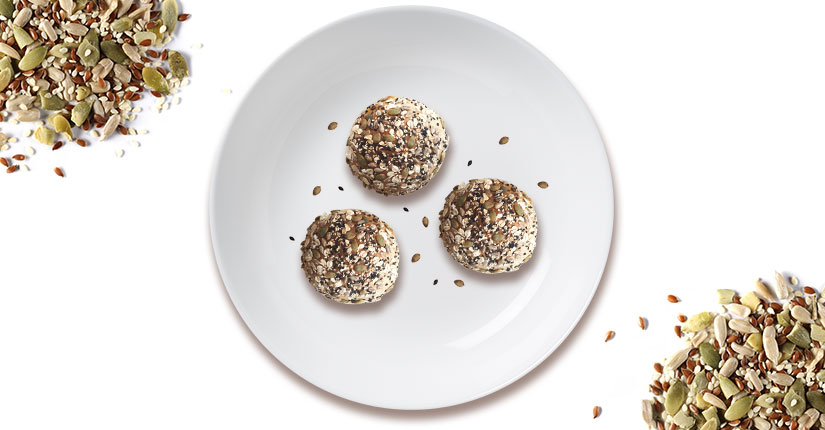 Wholesome Multigrain laddoo are super healthy, tasty and nutrient dense ladoos made with besan flour and nuts. It is one of the best desserts to try upon when you are struggling with sugar cravings. Loaded with protein and fibre these ladoos these ladoos should surely be in your to-do list.
Nutritional Benefits:
Multigrain flour is energy dense, has a good amount of fibre and improves digestion. It contains minerals like magnesium, calcium and antioxidants which help in managing chronic conditions such as diabetes and heart diseases. Walnut is an excellent source of omega 3, omega 6 fatty acids, dietary fibre, protein and healthy fat.
Ingredients:
15 grams Multigrain flour
5 grams jaggery
5 grams ghee
5 grams crushed almonds and walnuts
Pinch of cardamom powder
Calorie Count
Calories: 190.7 kcal
Fats: 8.2 g
Proteins: 3.69 g
Carbohydrates: 18.6 g
Method:
Take a pan, heat ghee and roast the multigrain flour on a low heat flame till you get the nice aroma of flour.
Now finely chop the nuts, roast walnuts and almonds and powder jaggery.
Then after mixing this powder with the multigrain flour and make balls to form ladoos.
Now when balls are ready, roll them over crushed almonds and walnuts.
You can serve or store them in the airtight container.
Over to you:
Wholesome Multigrain Laddoo is one of the best recipes to relieve your sugar cravings with yummy and healthy tinge.