Tangy Eggplant Coconut Gravy
By Nmami Agarwal 22-Jul 2020 Reading Time: 2 Mins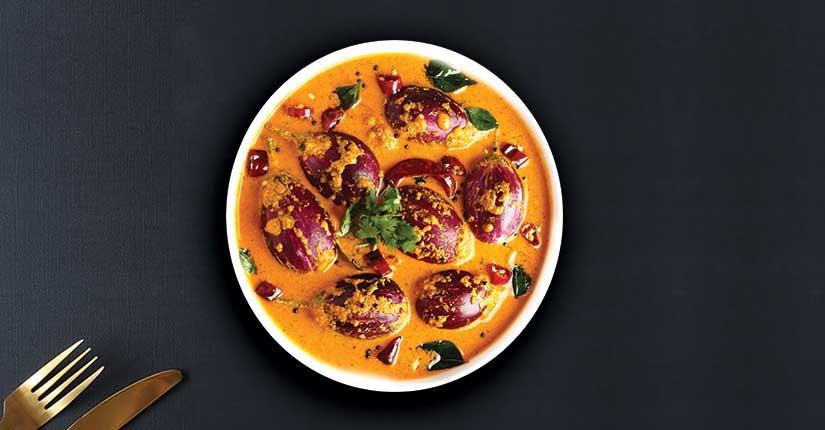 Tangy eggplant curry is a healthy and an interesting way to have your egg plants. You can try them with your breads or chapattis and enjoy.
Nutritional Benefits
Eggplant or brinjal is highly rich in various vitamins and minerals and also is known as high fibre low calorie vegetable. Thus, is really helpful in maintain low blood sugar levels and also is goof for heart patients.
Ingredients
30 grams Eggplant/Brinjal
10 grams curd
20 grams tomato puree
10 ml coconut milk
¼ teaspoon turmeric powder
¼ teaspoon chili powder
¼ teaspoon cumin seeds
1 tsp ginger powder and chat masala
Salt and pepper as per taste
1 teaspoon olive oil
Per Serving:

Nutrition Info
Amount
Calories
90.3 kcal
Carbs
4.1 grams
Protein
1.2 grams
Fats
7.3 grams
Method
Firstly, cut the eggplants and finely chop onion and tomato.
Take a pan, heat oil and add cumin seeds and saute onion, garlic until they soften.
Now add tomatoes puree and coconut milk and curd. Add all the spices and simmer for few minutes over a medium flame.
Now add the sliced eggplants and cook until they soften.
Serve hot.
Over to you
So, enjoy this healthy and tasty version of eggplants along with your breads or chapattis. This recipe is a must try!