Sweet Potato and Chestnut Soup
By Nmami Agarwal 18-Sep 2021 Reading Time: 2 Mins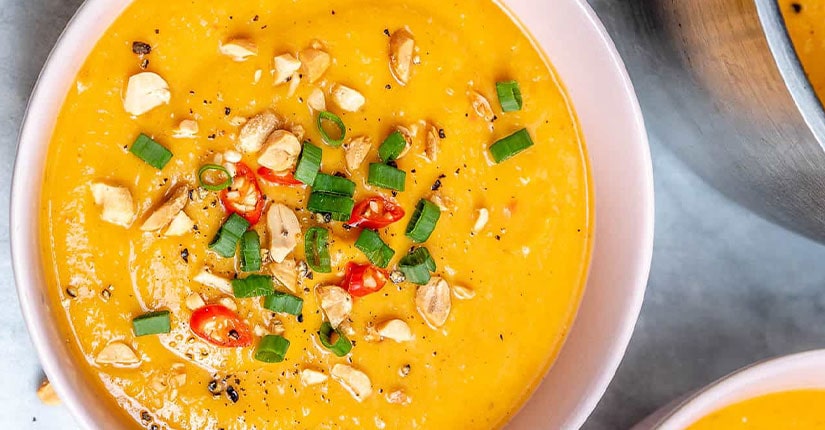 The ingredients sweet potato and chestnut bring a versatile flavor of both the ingredients to the dish, it provides a deep crunchy taste, and the satisfying texture of the soup along with its amazing nutritional composition is one of a kind. This is a perfect kid-friendly soup recipe including all the good and healthy ingredients.
Nutritional benefits:
Sweet potatoes contain a great amount of fiber and are therefore good for constipation issues. Chestnuts are great in antioxidants and they help to reduce the risk of heart diseases.
Ingredients:
30 grams of sweet potato
15 grams chestnut
15 grams onion
1-2 garlic cloves
½ teaspoon olive oil
100ml vegetable stock
Salt and pepper as per taste
Calorie count
Per Serving:

Nutrition Info
Amount
Calories
97 kcal
Carbs
15.7 grams
Protein
1.2 grams
Fats
3.4 grams
Method:
Heat some oil in a skillet and sauté onions for about 3-4 minutes until they turn golden brown.
Add in the rest of the ingredients except chestnuts and sweet potato and cook them for about 5-7 minutes. Add in the chopped sweet potatoes and chestnuts and let them boil for 30 minutes or until they turn soft.
After the soup is boiled, let it cool down and transfer it to the blender to form a puree consistency.
Serve it in a bowl and garnish with coriander leaves.
Over to you:
Grab on this bowl of soup to add in that extra nutrition kick while watching your favorite movie!