Amaranth rice flour nachos
By Nmami Agarwal 04-Jul 2020 Reading Time: 2 Mins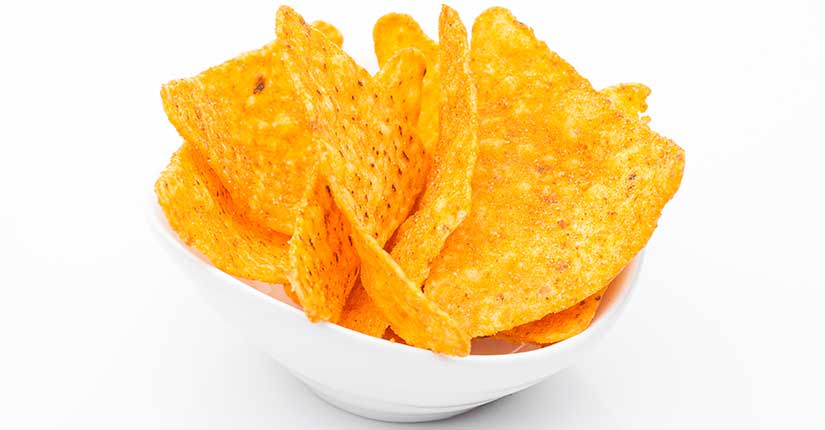 Baked nachos!! Mouth-watering, aren't they? Rather than cutting nachos from your diet for health reasons, why don't you switch to these homemade recipes which are easy to make do not consume much of your time and provide ample health benefits? So, lets look forward to this tempting recipe.
Nutritional Values:
Amaranth is a rich source of fibre and minerals such as iron, manganese and magnesium. The fibre plays an important role in order to get rid of chronic diseases like type 2 diabetes, heart diseases thereby safeguarding overall health.
Ingredients For Baked Nachos:
10 grams of rice flour
10 grams of amaranth flour
¼ teaspoon chilli powder
¼ teaspoon carom seeds
¼ teaspoon olive oil
¼ teaspoon salt
Per Serving:

Nutrition Info
Amount
Calories
117.8 kcal
Carbs
13.2 grams
Protein
3.1 grams
Fats
0.8 grams
Method For Baked Nachos:
Combine all the ingredients of nachos in a bowl and knead into a soft dough using hot water.
Divide the dough into 6 equal portions.
Roll the dough into 175 mm and 7" inch in diameter circle and prick it evenly with a fork.
Heat a non-stick griddle or tava and cook the circle lightly on both the sides.
Place on a clean dry surface and cut into 8 equal triangles using a sharp knife and keep aside.
Repeat above steps to make more triangles.
Place triangles on a baking tray and bake in a pre-heated oven at 180 degree Celsius.
Keep aside to cool completely.
Over to You:
After reading this easy to cook recipe, you might have water in your mouth. So, try this out soon and pamper yourelf.