Taco Pasta Salad
By Nmami Agarwal 30-Sep 2023 Reading Time: 2 Mins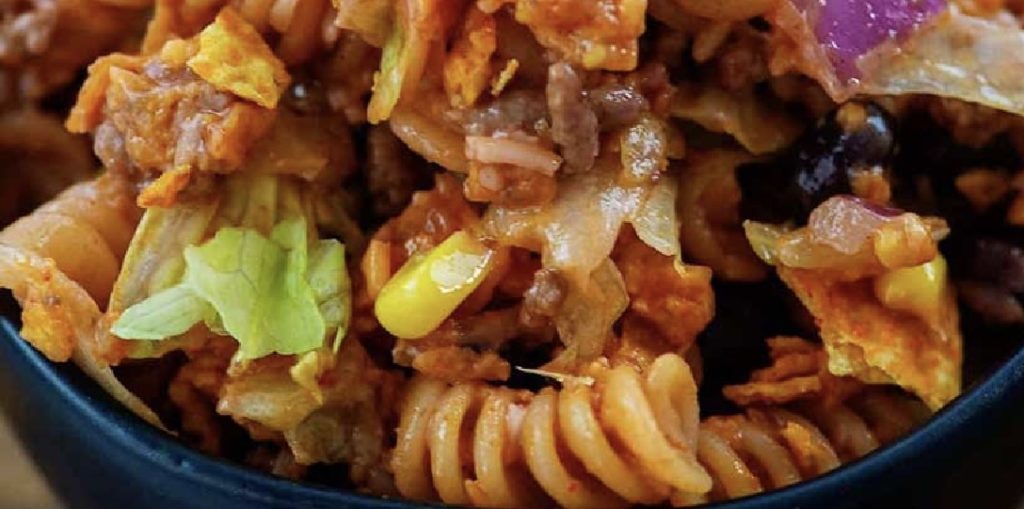 Elevate your mealtime with a fiesta of flavors in our Taco Pasta Salad. This innovative dish combines the zestiness of tacos with the comfort of pasta, creating a festive and delightful culinary experience that's perfect for any occasion.
INGREDIENTS
12 ounces whole-wheat penne
2 cups shredded rotisserie chicken
1 pint grape tomatoes, halved
2 avocados, chopped
1/4 cup shredded sharp Cheddar cheese
1 cup thinly sliced red onion
¼ cup chopped fresh cilantro, plus more for garnish
⅓ cup salsa
¼ cup hung curd
¼ cup reduced-fat sour cream
2 tablespoons lime juice
½ teaspoon salt
½ teaspoon ground pepper
½ teaspoon ground cumin
¼ teaspoon chili powder
INSTRUCTIONS 
     

Cook pasta according to package directions. Rinse with cold water; transfer to a large bowl. Stir in chicken, tomatoes, avocados, cheese, onion and cilantro.

     

Whisk salsa, hung curd, sour cream, lime juice, salt, pepper, cumin and chili powder in a small bowl.

     

Add to the pasta mixture and toss to coat. Refrigerate, covered, for 30 minutes or up to 1 hour. Garnish with additional cilantro and serve.
NUTRITIONAL BENEFITS

Taco Pasta Salad offers vitamin C from vegetables for immune support and potential antioxidants, while lean protein sources like chicken or beans contribute vitamin B12 for energy metabolism and protein utilization, enhancing its nutritional value.
CALORIE COUNT
  Calories: ~ 329 kcal
    Protein: ~25g
    Carbohydrates: ~ 26g
    Fat: ~ 12g