Stuffed Mushroom with Spinach
By Nmami Agarwal 09-Jun 2022 Reading Time: 2 Mins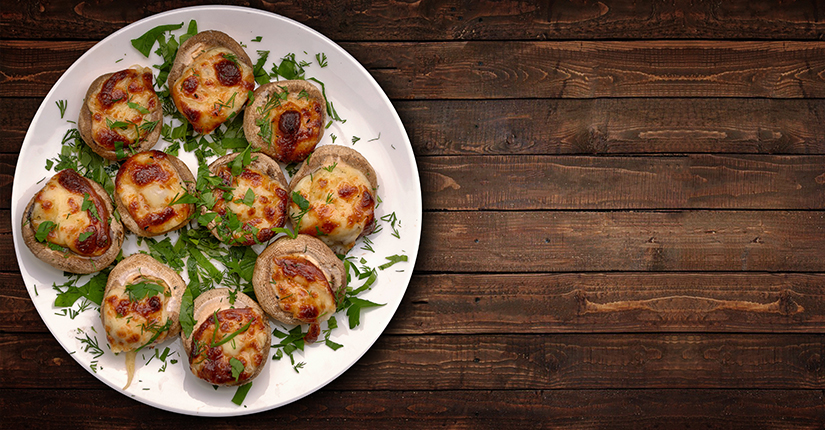 Stuffed Mushroom with spinach is the perfect healthy dinner option for parties. Often it becomes difficult to plan a healthy party menu and stuffed mushroom with spinach is the perfect option.
Nutritional Benefits
Mushrooms are excellent sources of plant-based protein, Vitamin B, and fiber and are rich in antioxidants. Spinach is highly nutritious with vitamin K, C, A, and Iron. Greek yogurt is high in protein and calcium. X
Calorie Count
Calories
151 Kcal
Protein
11.1 Grams
Carbohydrates
9.2 Grams
Fats
9.1 Grams
Ingredients
4 Large Button Mushrooms
0.5 Tbsp. of Olive Oil
1 Tbsp. Finely Chopped Onion
1 Garlic Clove Minced
A small bunch of Spinach
1/4 cup Greek Yogurt
1 Tbsp. of Parmesan Cheese
Salt and Black Pepper as per taste.
Method
Blanch spinach. In boiling water add spinach and bring it to a boil. Keep it for 2-3 minutes on medium flame. Switch off the flame and remove spinach from the hot water and put it in cold water for 1-2 minutes.
Remove stems from mushrooms and finely chop them.
Meanwhile preparing for stuffing, preheat the oven to 200 degrees celsius for 10 minutes.
Heat a saucepan, add olive oil, chopped onion, and minced garlic and cook for a while.
Then add, spinach and chopped mushroom stems and cook for a few minutes. Add Greek yogurt, bring a boil, and switch off the flame. Let the mixture cool down for a while and mix in it Parmesan Cheese, Salt, and Black Pepper.
Stuff the mushroom with the mixture. Brush some oil on the baking tray and place the stuffed mushroom. Put the tray for baking in the preheated oven for 20 minutes until lightly brown.
Over to you
Try out these yummy stuffed mushroom spinach recipes for your healthy yet delicious dinner.