Pear Walnut Salad
By Nmami Agarwal 30-Jun 2020 Reading Time: 2 Mins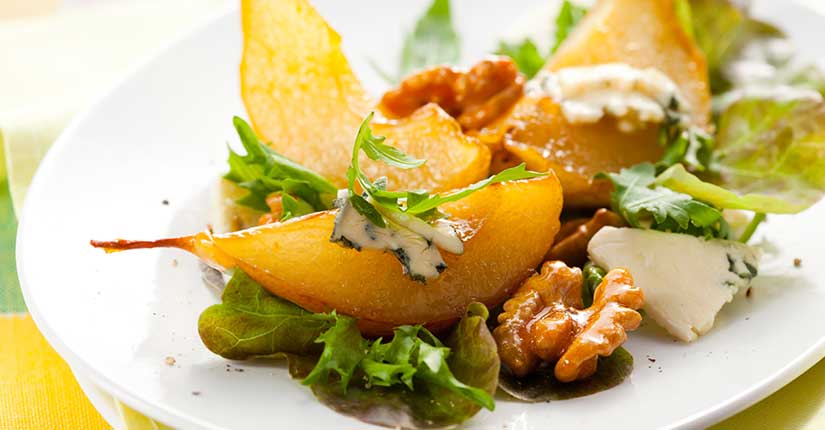 Pear walnut salad is a great alternative to the regular green salad and is a great addition to the holiday table at any time of the year. This is a great way of forgetting the boring green salad while consuming all the healthy nutritious components. It is a great option to be used as a side dish along with your favorite meals.
Nutritional Benefits:
Pears are very nutritious and help in losing weight. They help in lowering the LDL levels and are good for heart health. Walnuts, on the other hand, are a good source of omega 3 fatty acids, rich in antioxidants, and helps in lowering cholesterol levels, therefore, helping in heart conditions.
Ingredients:
1 teaspoon olive oil
½ teaspoon vinegar
1 teaspoon mustard sauce
Salt, oregano and black pepper as per taste
5 grams walnuts
5 grams raisin
10 grams lettuce
1-2 date
15 grams pear
Per Serving:

Nutrition Info
Amount
Calories
123 kcal
Carbs
13.8 grams
Protein
1.2 grams
Fats
8 grams
Method:
Start by preparing the dressing in a small bowl. Add in the olive oil, vinegar, mustard, raisin, salt, pepper, and oregano. Mix it well to combine.
Take a skillet and roast the walnuts for 2-3 minutes.
Take a serving bowl; add in the washed and chopped lettuce, chopped walnuts, pear, and dates.
Drizzle the serving over the bowl and its ready to serve.
Over to you:
This salad is very simple to prepare but is full of texture and flavor of combinations. The gorgeous green base along with the tender ripe pear and crunchy walnuts makes it a very desirable salad.