Apple Halwa
By Nmami Agarwal 26-Sep 2020 Reading Time: 2 Mins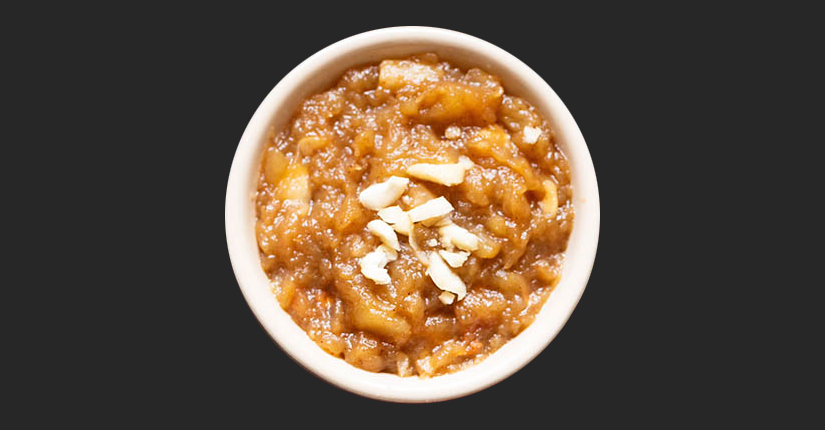 Apple halwa prepared with sautéed apples, mava and milk is a perfect and delicious recipe to put your hands upon. Especially flavoured with vanilla extract it is tempting with irresistible aroma.
Nutritional Benefits:
Apples are fair source of fibre and have certain constituents that are good for your gut. They also contain Vitamin C and hence act as antioxidants. Walnut is an excellent source of omega 3, omega 6 fatty acids, dietary fibre, protein and healthy fat.
Ingredients
10 grams mava
50 grams of grated apple
10 grams ghee
5 grams coconut sugar
½ teaspoon chopped walnuts
20 ml milk
Per Serving:

Nutrition Info
Amount
Calories
191.5 kcal
Carbs
9.1 grams
Protein
3.2 grams
Fats
12.9 grams
Method
Take a non- stick pan and heat ghee. Add grated apple and cook for 5-6 minutes over medium flame. Don't forget to stir continuously.
Then add mava and mix well. Let it cook for 2-3 minutes while stirring continuously.
Add milk and mix gently. Cook it for 7-8 minutes on a medium flame and stir continuously.
When cooked, keep aside to cool. Once cool, add vanilla extract and chopped walnuts. Mix well.
Serve.
Over to you
Apple halwa is a healthy dish which is filled with the goodness of apple and thus is a healthy and nutritious dessert to try your hands upon.