Lemony Broccoli Chicken
By Nmami Agarwal 05-Jun 2020 Reading Time: 2 Mins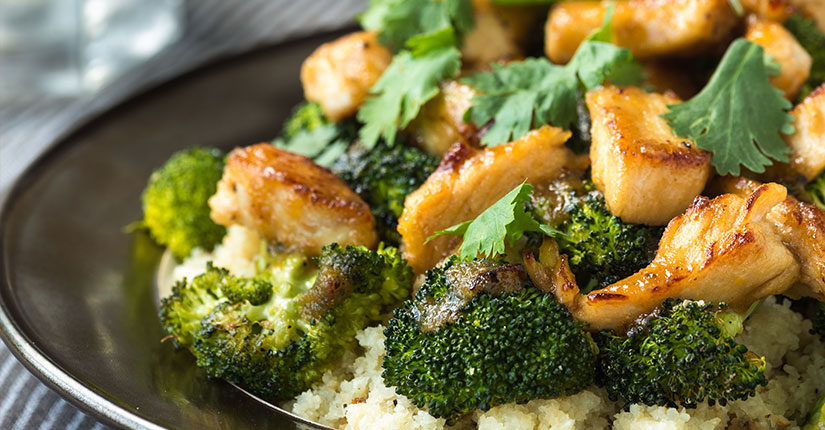 Lemon Chicken with tossed Broccoli is one of the easiest dinners that can be made with bright lemony chicken and flavourful broccoli.
Nutritional benefits:
Chicken provides a high supply of protein, essential vitamins and minerals which play a very important role in sustaining our muscles.
Ingredients:
50 grams chicken
20 grams broccoli , cut in florets
5 grams all-purpose flour
½ teaspoon garlic powder
½ teaspoon paprika
1 small lemon, sliced
1 teaspoon lemon juice
1 teaspoon oil
Salt and pepper to taste
Parsley, to garnish
Per Serving:

Nutrition Info
Amount
Calories
198 kcal
Carbs
7.3 grams
Protein
15.1 grams
Fats
11.8 grams
Method:
Sprinkle chicken with salt and pepper. In a shallow bowl, mix all-purpose flour, garlic powder, paprika and lemon juice. Dip chicken in the mixture and shake off excess.
Heat some oil in a large flat-bottomed pan. Add chicken and let it cook for 4-6 minutes on each side until golden brown. Remove and keep warm.
Add water, lemon zest and remaining lemon juice to skillet; bring it to boil.
In a pan toss the broccoli with salt and pepper and cook it until it is tender.
Serve chicken with broccoli, lemon wedges.
Over to you:
This delightful recipe is a super weeknight dinner that the whole family will love and it's ready in just 30 minutes. So don't forget to try on this amazing yet easy to cook meal.