Jowar Masala Bhat
By Nmami Agarwal 05-Sep 2022 Reading Time: 3 Mins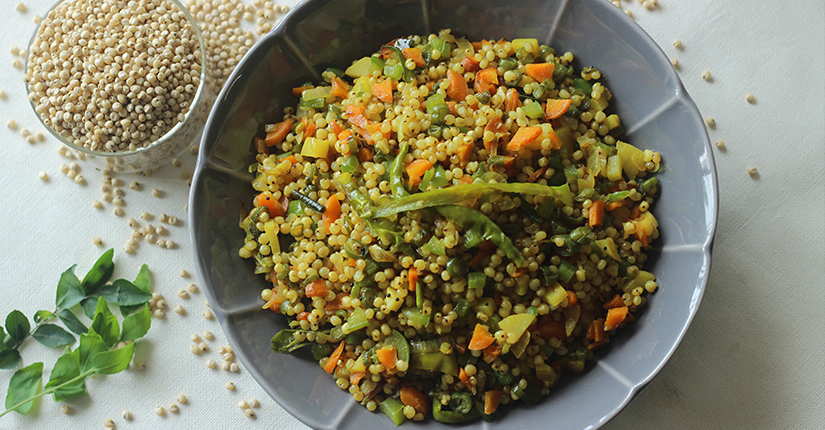 Jowar is a nutritious grain with high fiber content and protein. This masala bhat makes an excellent option for evening snacks or travel munchings. It is a spicy dish prepared using soybeans which are again good in protein.
Nutritional Benefits:
Jowar is a gluten-free grain which makes it desirable to be included even in gluten-free diets. Apart from that, it is high in protein. The fiber in jowar helps in digestion and prevents bloating and constipation. The magnesium. Copper and calcium help in making bone and tissues strong. Soybean on the other hand is again high in fiber, and protein and is a good source of antioxidants. Magnesium is one of the most important minerals that is directly linked to increasing sleep quality and providing calm and restfulness.
Ingredients:
Jowar – 15 grams
Onion – 10 grams
Tomato – 10 grams
Soya beans – 15 grams(cooked)(can be replaced with veggies of choice)
Ginger and Garlic – 5 grams
Green chilli – 1
Bay leaf – 1
Clove, Cardamom (I)(optional)
Ghee – 5 grams
Coriander Leaves- for garnishing
Mint leaves for garnishing
Red chilli powder – 1/2 teaspoon
Biryani Masala (optional)
Garam Masala (optional)
Salt – as required
Calorie Count:
Calories
-141 Kcal
Protein
-9.8 g
Carbohydrates
– 17.16g
Fat
-3.3g
Method: –
Start by rinsing the jowar grains to remove dirt if any.
Then we soak it overnight.
In a pressure cooker fill it with water, add jowar and pressure cook for 18-10 whistles on low to medium heat or until cooked.
After the pressure fully subsides drain excess water from Jowar and keep it aside.
Meanwhile warm ghee in a pan add bay leaf, and other aromatics and sauté it, add onion, green chillies ginger garlic and sauté well.
Add tomatoes, chilli powder other spices if using low heat, add soya beans/veggies, salt mix well and cook until well combined.
Add drained jowar, mix well, cook it covered for a minute add mint, and coriander mix and it's done.
Over to you: – This jowar bhat is loaded with goodness and is good in protein, and iron and is packed with vitamins and minerals. It makes a great carry-on snack that can be enjoyed while you travel. Eat clean and stay healthy!