Beetroot Tambuli
By Nmami Agarwal 20-Jul 2020 Reading Time: 2 Mins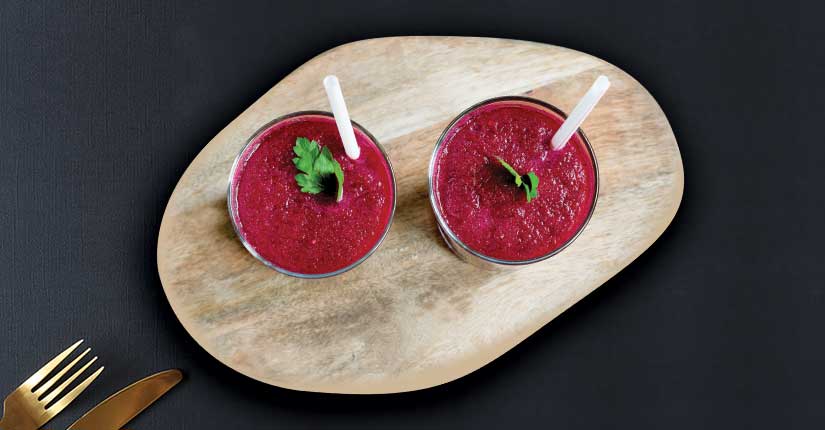 This recipe is an ultimate combination of Indian spices and yogurt. It is known as Saasive in Kannada cuisine as it is bursting with flavours. It is served in many forms as an accompaniment with roti, rice or any vegetable.
Nutritional Benefits
Beetroot is high in fibre and contain inorganic nitrates and pigments that are good for athletic performance. The betalains in the beets have anti- inflammatory activity that protects from inflammation. Both curd and cumin powder helps in curing indigestion and gives a cooling effect to the digestive system.
Ingredients
20 grams beetroot
30 grams plain yogurt
10 grams fresh coconut
1 teaspoon roasted cumin seeds
1-2 green chilli
1 teaspoon ginger
½ teaspoon red chilli powder
½ cup freshly chopped coriander leaves
Salt to taste
½ teaspoon oil
½ teaspoon mustard seeds
Per Serving:

Nutrition Info
Amount
Calories
63 kcal
Carbs
5.5 grams
Protein
2.2 grams
Fats
3.8 grams
Method
Start by whisking the yogurt until smooth.
Take a pan and heat some oil.
Add in the cumin seeds, ginger and green chilli.
Then add in the coconut and cook for 3-4 minutes.
Then let it cook for some time and meanwhile in the pan, add some more oil and toss the grated beetroot with some salt. Let it cook till it becomes soft and allow to cool.
Take a blender add both the mixtures to blend.
Take a bowl and add the yogurt along with the blended mixture and salt.
Heat oil in some pan and add mustard, spices and hing to temper. Pour over the raita to give a distinctive flavour.
Serve and enjoy!
Over to you
So try this relishing and yummy raita along with your pulav, biryani or chapattis and bless your body with goodness of health and nutrition.