Guacamole Black Bean Salad
By Nmami Agarwal 21-Mar 2022 Reading Time: 2 Mins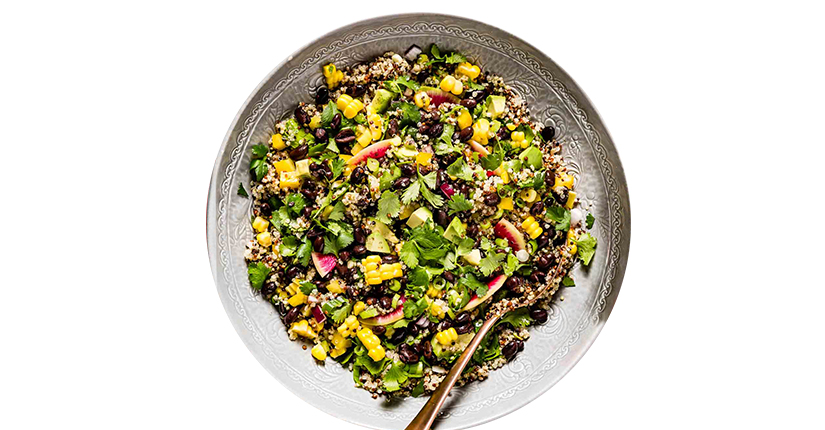 Guacamole black bean salad recipe is very simple to make and uses fresh ingredients that can be enjoyed with your favorite dip. All you need is avocados, onion, tomatoes, and vegetables of choice, cilantro, jalapeno, pepper, lime juice, garlic and salt. It is super delicious and healthy.
Nutritional benefits:
Avocados are healthy, delicious and consist of healthy good fats that provide satiety and help to keep you fuller longer and delay the return of hunger. Whereas black beans on the other hand are good in fiber, potassium, folate, vitamin B6, and phytonutrient content that support heart health.
Ingredients:
1 teaspoon olive oil
1 teaspoon of lime juice
1 teaspoon cumin
Kosher salt as per taste
Ground black pepper as per taste
10 grams cherry tomato
10 grams boiled black beans
10 grams corn
10 grams onion
1 jalapeno
10 grams avocado
1-2 teaspoon coriander
Calorie Count
Calories
105 Kcal
Fat
6.7 grams
Carbohydrate
9.3 grams
Protein
2.7 grams
Method:
Take a clean small bowl, start preparing the dressing by whisking together olive oil, lemon juice, and cumin. Season with salt and pepper.
Then in another bowl add the black beans, guacamole, chopped vegetables and toss over the dressing until combined.
Serve and enjoy!
Over to you:
This recipe is loaded with flavor and is hands down super delicious and easy to prepare with few ingredients!