Beany Cabbage Bowl
By Nmami Agarwal 04-Jan 2022 Reading Time: 1 Mins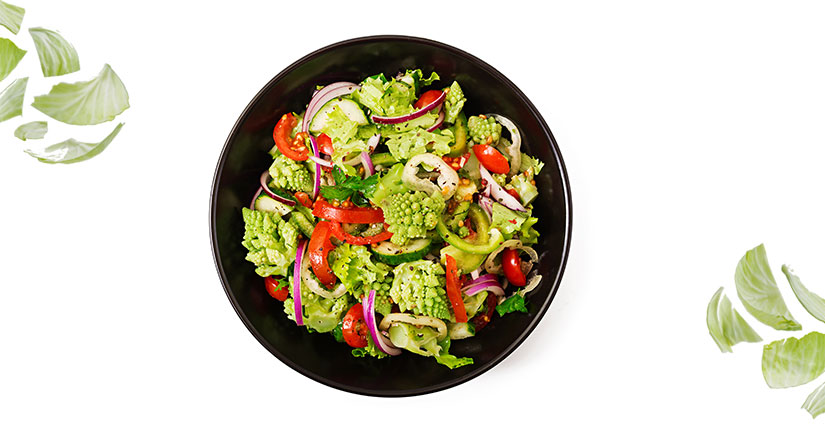 Beany Cabbage Bowl is a very simple and easy recipe that is prepared using cabbage and beans. Made with the low-calorie cabbage, it is a perfect dish to add on to any of your meals during the day.

Nutritional Benefits:
Cabbage is a low calorie vegetable which is an excellent source of fibre. It also contains antioxidants which reduces the risk of chronic diseases.

Ingredients:
2 cabbage outer leaves
10 grams kidney beans
10 grams sliced avocado
10 grams onions
10 grams tomatoes
1 teaspoon salt
1 teaspoon vinegar
1 teaspoon chili flakes
1 teaspoon pepper
1 teaspoon olive oil
Calorie Count
Calorie
118.6 Kcal
Protein
4.1 grams
Carbohydrates
7.5 grams
Fat
7.2 grams
Method:
Firstly, remove the outer leaves of cabbage so that you make them perfect bowls.
In a small bowl, combine beans, red onions, tomatoes and avocado.
In another bowl, mix salt, pepper, chili flakes, vinegar and olive oil together to form a dressing.
Now add the dressing to the bean mixture and mix gently.
Finally, divide the mixture into cabbage bowls.
Serve and enjoy.
Over to you
Beany Cabbage Bowl is quite an easy and simple recipe that you can count on to remove your hunger pangs. So, put your hands on this amazing recipe.