Cherry Tomato Couscous salad
By Nmami Agarwal 05-Oct 2020 Reading Time: 2 Mins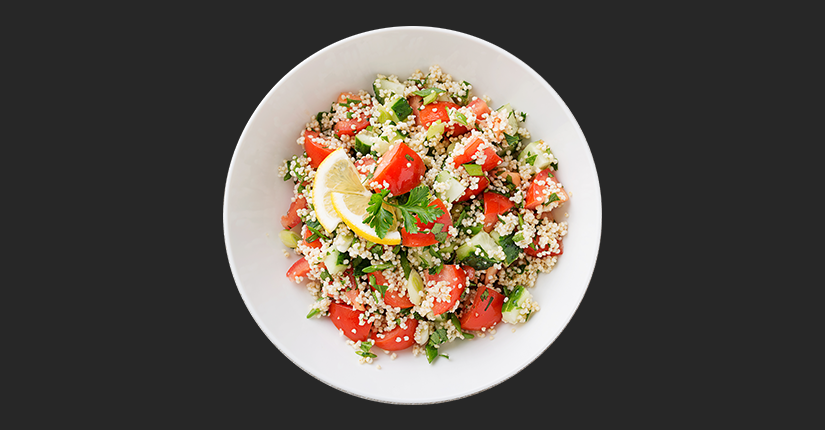 Cherry Tomato Couscous salad is high on taste and health. This dish is a perfect pick for starters or a main meal. So, count on this recipe in order to enjoy its unique flavour and richness.
Nutritional Benefits:
Couscous boosts your immunity system. It is a healthy alternative to pasta which makes it a low-calorie food with good amount of fibre. Tomatoes are great source of antioxidant lycopene which reduces the risk of cancer and heart diseases. It is also rich in vitamin C, potassium and Folate.
Ingredients
15 grams couscous
20 grams cherry tomatoes
10 grams cooked chickpeas
20 grams bell peppers
20 grams cucumber
1 teaspoon fresh parsley
½ teaspoon olives
1 teaspoon fresh basil leaves
½ teaspoon pumpkin seeds
1 tablespoon lime juice
2-3 cloves of garlic
1 teaspoon white vinegar
1 teaspoon olive oil
1 teaspoon seasonings thyme, oregano, chilli flakes
Salt and pepper as per taste
Per Serving:

Nutrition Info
Amount
Calories
140.2 kcal
Carbs
12.1 grams
Protein
4.1 grams
Fats
8.1 grams
Method:
Firstly, cook the couscous in the boiling water according to package instructions.
Make the dressing by combining lime juice, minced garlic seasonings, olive oil, white vinegar and olive oil in a bowl.
Now drain the couscous and let it cool for few minutes.
In a large bowl, add chopped cherry tomatoes, cucumber, bell peppers, cooked chickpeas and couscous. Then add parsley and basil leaves.
Toss it with the prepared dressing and mix gently.
Serve.
Over to you
Cherry Tomato Couscous salad is a delicious, healthy and filling recipe to satisfy your taste buds. It's for sure a must try.