Basil Ginger Lemon Tea
By Nmami Agarwal 17-Aug 2021 Reading Time: 1 Mins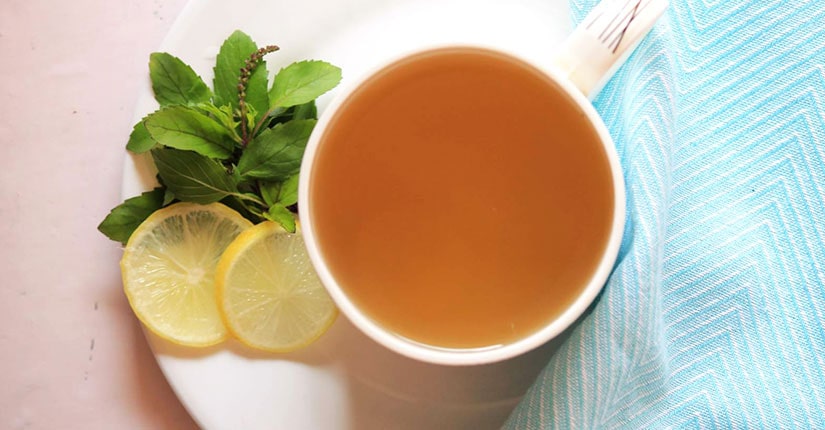 Basil ginger lemon tea is a revitalizing and reinvigorating drink to try upon in this hot summer weather. Made with basil, cardamom and coriander, this tea is a perfect summer drink for you!
Nutritional Benefits:
Basil is a multipurpose traditional herb which is used in treating ailments ranging from cold, cough to chronic diseases such as diabetes.
Ingredients:
1 teaspoon ground coriander
1 teaspoon ground cinnamon
1 teaspoon pepper corns
1 inch chopped ginger
8-10 basil leaves
1 teaspoon lime juice
Calorie count
Per Serving:

Nutrition Info
Amount
Calories
8.2 kcal
Carbs
1.4 grams
Protein
0.6 grams
Fats
0.1 grams
Method:
To start with, in a saucepan add water and bring to boil on a low flame.
Then add all the spices and crush the basil to release its flavour and add it to the pan.
Let it simmer for 5 minutes on a low flame.
Now turn off the heat and stir the lime juice and refrigerate.
Serve chilled with sliced lime.
Over to you:
Try out this super amazing and refreshing tea and pamper yourself with its flavour.