Practical Tips for Navratri Fasting to Keep Your Energy Restored
By Nmami Life Editorial 24-Mar 2020 Reading Time: 5 Mins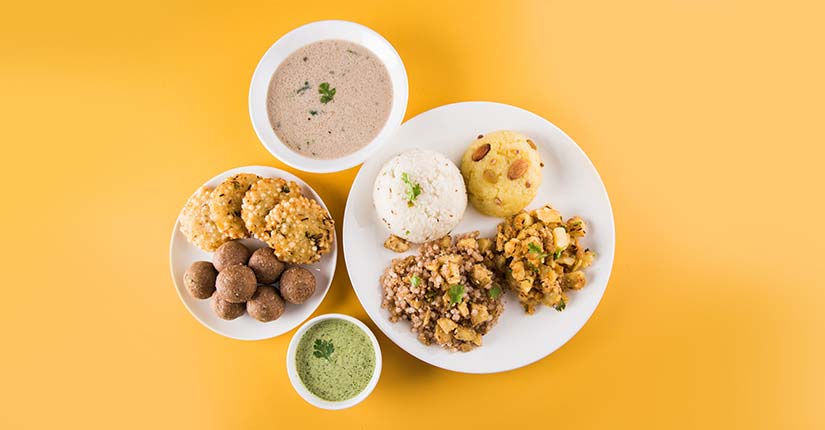 The auspicious festival of Navratri is around the corner.  As fasting is the great concept that is been followed during the 9 days of this festival, it is quite important to make your fasting routine healthy so that you don't suffer from less energy and bad health. Following healthy tips during the fasting cannot only enrich you with great nutrients but also help your body to give a great detox. It cut out the unwanted calories while making you trim down those extra pounds healthily.
Some people starve themselves during fasting which can drain out all the energy levels while affecting the overall health and well-being. Today, we bring you some of the tips that will help you in sustaining your energy levels while getting all the nutritional requirements fulfilled. Following these tips can add up to your health and make your fasting days happy and healthy.
Here are some healthy fasting habits to adopt.
Plan your meals:

Planning your meals can save you from unnecessary binging while saving you from low energy levels. A sudden change in your meals during the fasting can affect your health like nothing else, so it is quite important that you make a proper meal plan to avoid any health ailments. Make sure you eat properly and fully and add healthy swaps in your diet so that you can get proper nutrients. Snacking healthily is a great way to make your fasting hale and hearty. Try to consume less oily and sugary foods as they can harm your health like nothing else.
Stay hydrated:

Many people often forget to drink water while fasting. But proper consumption of water can reduce your unnecessary cravings of foods while make you binge less on processed and oily foods. You can add water, vegetable and fruit juices with pulp and coconut water in your menu so that you can stay properly hydrated while fasting. It is quite important to maintain an adequate level of water in the body so that your stomach doesn't make any harmful acids inside it during the days of fasting. Appropriate hydration levels are quite important in the proper functioning of the body and it can save you from various health ailments as well.
Avoid starving: Starving during fasting is what many people follow! But it can lead to various health problems and can do more harm than any good. You can binge health snacks at the gap of 2 hours to ensure proper nutrients in the body. Make a thumb rule to not to stay starve for too long. You can eat fresh fruits, nuts, fruit smoothies at intermissions. Starving can make you suffer from various problems like low energy levels, weakness, anaemia, fatigue and headaches.
Add fruits and veggies: Adding fruits and veggies in your fasting menu is a great way to get the proper vitamins, minerals, fibre and other plenty nutrients that are important for the smooth functioning of the body. Fruits and vegetables are filled with dietary fibre that can make you feel fuller for a longer period of time. It can make you refresh and energetic throughout the day and save you from various health problems
Footnote
Add the above-written pointers in your fasting days to make your Navratri fasting hale and hearty. These pointers will not only help you in keeping your energy restored but also make you feel fresh and active.