Pongal 2022: Go Healthy With These Delicious Pongal Delicacies
By Nmami Agarwal 14-Jan 2022 Reading Time: 3 Mins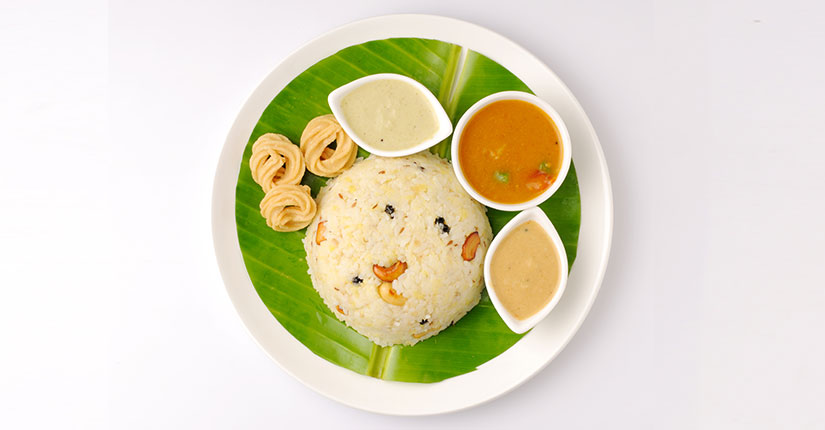 The four day harvest festival 'Pongal' is celebrated by the people of Tamil Nadu with all enthusiasm amid near and dear ones. Rich varied customs and celebrations are observed on the day of Pongal. It is the 'Thanksgiving festival' that marks the starting of the spring season. However, this is the end of traditional farming and collecting the first food of harvest. Many traditional mouthwatering Pongal delicacies are prepared and feasted upon.
Here are a few nutritious delicacies that could be part of the 'Pongal bhojnam':-

1. Sweet Pongal- A sweet porridge which is a mixture of rice & moong dal lentils with the added flavor of jaggery, ghee, dry fruits and cardamom. It's a dish that is made to signify prosperity.
2. Rava Pongal- It is made up of moong dal and rava. It is served with mango pickle, curd, mint or coconut chutneys to add some flavor.

3. Chakkara Pongal- This is a must-have recipe. It is made up of harvested rice and is offered to the sun god. The chakra Pongal is prepared with lots of ghee and jaggery which makes it saccharine. The sweetness is loved by many South Indians.
4. Teel barfi – These sweet crunchy barfis are prepared using sesame seeds, sugar, khoya, and ghee. For a healthier option, sugar can be replaced with jaggery. Many people love eating this thin and sweet barfi.

5. Puranpoli- A traditional dish of Pongal loved by everyone! This flatbread is prepared by using Bengal gram dal mixed with coconut and ghee. The flavor of Puran Poli does magic to the mouth.

6. Medu vada- Medu vada is mainly served at breakfast. They are disc-shaped, crunchy and deep-fried for better texture. Enjoy the vada with coconut, mint, tomato chutney dipped in tangy sambhar.
7. Lemon rice- A dish found in every South Indian platter, lemon rice tastes delicious and has a tangy flavor that makes it more interesting. Squeezed with lemon and full of peanuts and garnished with green chili & coriander can be eaten in breakfast, lunch or dinner.
8. Murukku- Coiled, a crispy dish made with urad dal is one of the healthiest snack options.
To savor more healthy desserts; sabudana payasam, maa ladoo recipe, rava kheer, aval payasam, milk kesari and rava laddoo all these can be made in jaggery.
So celebrate the festival of Pongal with family, friends and good nutrition!
Happy Pongal!!