Here are some Do's and Don'ts of Consuming Home-made Kadhas
By Nmami Life Editorial 08-Nov 2020 Reading Time: 5 Mins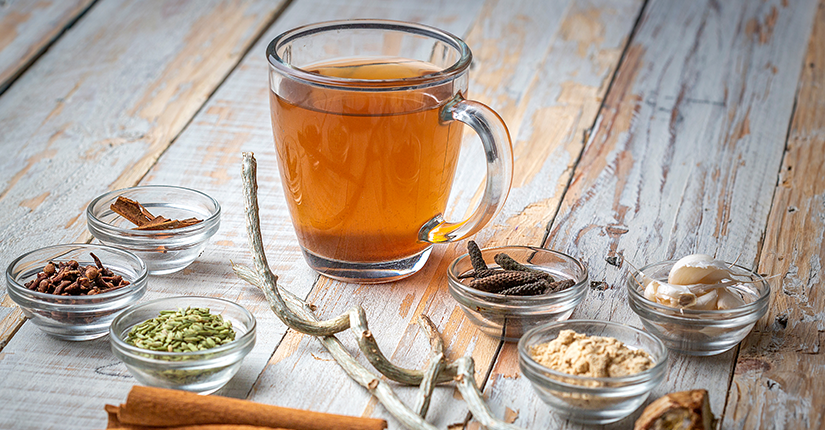 Kadha is proved to be beneficial for our body and immunity. Immunity has been of prime importance these days. The coronavirus outbreak put the word immunity in limelight and helps us in realising that immunity is not something that can be compromised with. When it comes to immunity, kadha is one thing that took the centre stage. We all consume home-made kadha to boost our immunity. But are we consuming it right? The method we all are following is accurate? Here are some do's and don'ts of consuming home-made kadhas that helps in squeezing the best benefits without compromising its nutritional profile.
Can Kadha be harmful?
Yes, Kadha can be harmful, no doubt that it has significant immunity properties but since the outbreak people have started drinking 3-4 cups of Kadha every day, this ingestion of Kadha can be toxic. Kadha should be taken in a controlled manner. Excess consumption of Kadha can be harmful to health. Often people make the mistake of over boiling the Kadha and drinking it excessively, both of which could do more harm than any good. If not careful then one may face some symptoms such as urine infection, acne, acidity, excessive heat and dryness produced in the body, and mouth ulcers. Hence, drinking Kadha the right way and in the right quantity is extremely important.
The Do's and Don'ts of drinking Kadha
Do not over boil the Kadha: A quick boil is enough for a healthy Kadha, it is not necessary that over boiling water and spices will increase its benefits. It does the exact opposite by turning it bitter and may be harmful by giving you acidity and heartburn.
Do not overconsume the kadha: Have only half a cup of Kadha in a day. Until winter only have half a cup of Kadha per day to avoid excess heat. You can have 2 cups in winter though.
Do not use every ingredient of your kitchen: Use some cooking spices and not every spice of your kitchen. You can add cardamom, turmeric, pepper, lemon and ginger to prevent any stomach issue you might get from Kadha.
Do consume cool foods: Kadha produces heat in the body which leads to dryness and acne outbursts, hence it is recommended to consume cool foods like orange to balance body heat.
Do hydrate yourself: Kadha can cause dryness hence high quantities of water including infused water, mint water, buttermilk, coconut water can be consumed to properly hydrate your body.
Don't drink Kadha regularly: Kadha is beneficial but having them every day or too much in one go is not recommended. You can consume a cup daily or consume it on alternate days.
Over to you:
Kadha is beneficial for your body and immunity especially in this pandemic where immunity is of prime importance. Too much Kadha is not recommended for a healthy lifestyle. Quickly boiled Kadha with some natural ingredients and add natural cool foods in your diet along with it to avoid any side effects.