Manage Withdrawl Symptoms after You Quit Smoking
By Nmami Life Editorial 07-Oct 2021 Reading Time: 6 Mins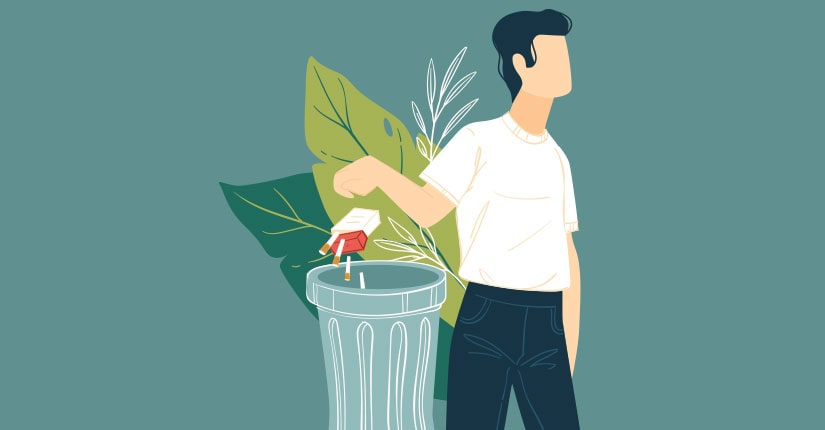 Quitting smoking is the best thing you will ever do for your health. It can affect your life in ways you may not even imagine.
Benefits to your health and life from quitting smoking include:
Your sense of taste and smell improves and this will let you enjoy your food more.
Your fertility levels will improve (in both men and women), and if you're a woman, your chances of having a healthy pregnancy and baby also increase.
Exercising to increase your fitness will become easier.
You will be free from the hassles of smoking, such as smelling smoke or always having to make sure you have enough cigarettes.
You will save money that you can save or spend on better things.
Your family and friends will also benefit because you won't put their health at risk anymore with passive smoking
Your children will be less at risk from bronchitis, pneumonia, asthma, meningitis and ear infections.
Change routine to help you manage cravings
One of the biggest challenges many people face in the early days of quitting is regular cravings. Some cravings are your body physically wanting nicotine, but some are also related to your daily routines. Changing your routine can help avoid those triggers that tell your brain it's time for a smoke.
Here are some ideas for activities to do instead of smoking at those times you usually reach for the cigarettes:
Change to a different drink, a different cup, or change where you drink it
Sit in a different place or with different people, read a magazine or take a scroll through social media
Move your desk or redecorate to change the look at work
Go for a walk after a meal
Exercise or meditate after work
With alcohol – change to a different type of drink or hold your drink in your smoking hand
Reward or treat yourself every day to motivate yourself
Avoid being with smokers for few days, if you cannot, have a pack of chewing gum or keep sipping water
While watching television, hold a stress ball, do some easy stretches
Have a warm drink or read a book before going to bed
Remember, each time you resist that urge and do something else instead it's a victory in your quest to quit you're helping your brain break that links between the activity and the cigarette.
The more options you have to distract yourself, the better. Here are a few more ideas you can try at any time:
Sip a glass of water slowly.
Play with a pet.
Call a friend.
Play a game on your phone.
Try some gardening.
Do a jigsaw puzzle or crossword.
Think about the reasons you're quitting and envision a positive future.
Managing stress when you quit smoking
It will take time to settle into new routines and find new ways that you can adapt to avoid smoking, now that smoking is not an option.
Studies tell us that smokers tend to have higher stress levels than non-smokers. Most people find that their stress levels are lower six months after quitting than they were before they quit.
One of the biggest challenges you'll face when you quit is finding a new way to take 'me time' – at work, when you first get home, after dinner, and other times when you just need some time out. Ask a friend or your partner to be around you when you feel alone or bored.
You might find it helpful to create a special space for yourself to relax. Or you could try revisiting an old hobby or starting a new one.