Vegetable sago cutlets
By Nmami Agarwal 06-Jul 2020 Reading Time: 2 Mins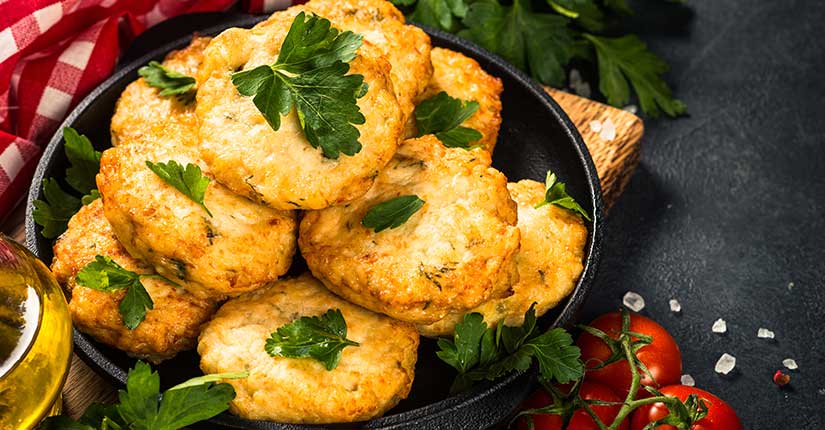 Vegetable sago cutlets are easy to make yet delicious cutlets that are ideal for a breakfast or snack time. Different vegetables as per choice can be added to give flavor and pop of color to the cutlets.
Nutritional Benefits
Sago or sabudana is an ingredient that provides you with energy alongside providing you with Fiber and antioxidant which can aid the digestion process in your body. It is also good for people having gluten insensitivity since it is free from gluten. Peas are a good source of manganese, fiber, iron and vitamin A.
Ingredients:
10 grams boiled potato
10 grams sago
10 grams finely chopped onion
10 grams finely chopped capsicum
5 grams fresh peas
1 teaspoon ginger and garlic paste
Salt and black pepper to taste
Oil (1 teaspoon)- for greasing
Chaat masala and oregano – optional
Per Serving:

Nutrition Info
Amount
Calories
97.4 kcal
Carbs
11.6 grams
Protein
0.6 grams
Fats
6 grams
Method:
Wash sago and keep it soaked overnight.
Meanwhile keep potatoes to boil and mash them.
Heat some oil in a pan and add ginger garlic paste along with sago.
Cook until sago is cooked from inside.
Then take a bowl and combine boiled potatoes, chopped vegetables and cooked sago along with the spices.
Mix well and make tikkis out of this mixture.
Grease a baking tray or line it with parchment sheet.
Bake at 200 degrees for 30 minutes or until it is golden brown in color.
You can also air fry these tikkis.
Serve hot
Over to you
Easy to prepare and this delicious recipe is great for including healthy options for the kids. To perk up the nutrition, green leafy vegetables can also be added. Enjoy it with any chutney or spread!