Spinach Egg Curry
By Nmami Agarwal 04-Dec 2021 Reading Time: 2 Mins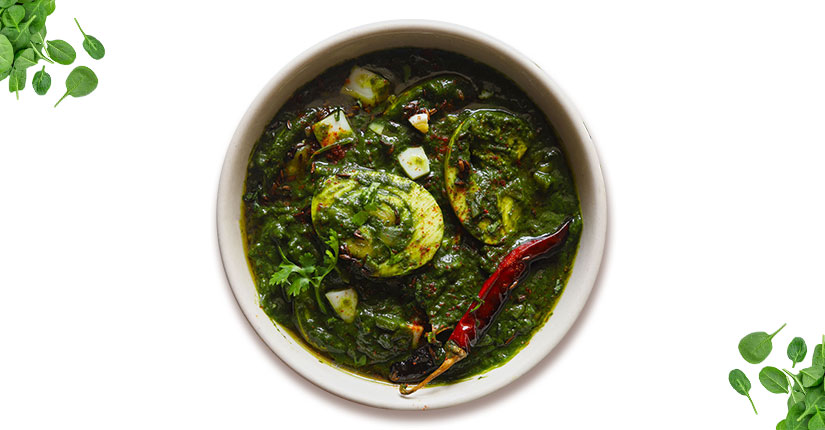 Spinach Egg Curry is an awesome dish to incorporate into your main meals. It is healthy and easy to prepare combined with the goodness of eggs and spinach to offer you with amazing taste and ample benefits.
Nutritional benefits
Eggs provide us with high biological value protein which helps in building up muscles and tissues. Spinach is rich in iron, folic acid, vitamin A and vitamin C. It helps in building up immunity because of its antioxidant properties.
Ingredients:
1-2 boiled egg whites
10 grams onion (diced)
10 grams sized tomato (diced)
50 grams spinach (boiled)
½ inch ginger
1 green chili
1 teaspoon mustard oil
1/8 teaspoon asafoetida
½ teaspoon cumin seeds
¼ teaspoon turmeric powder
¼ teaspoon red chili powder
1 tablespoon coriander powder
1 teaspoon salt
½ teaspoon garam masala
½ teaspoon coriander leaves (to garnish)
Calorie count
Nutrition Info
Amount
Calories
155.4 Kcal
Proteins
7.3 grams
Fat
5.1 grams
Carbohydrates
2.3 grams
Method:
In a blender, blend spinach, tomato, ginger and green chili to make a puree.
Heat the oil in a saucepan and add cumin seeds into it. When seeds start cracking add asafoetida to it.
Now add onion and sauté for some time or until it turns golden brown.
Then add in the spinach puree, turmeric, and salt into it. Mix well and cook for a few minutes.
Now add the boiled egg whites into it along with half cup of water and mix well.
Cover the pan and let it cook for 8- 10 minutes over medium heat until it becomes tender and mushy. Stir a few times in between.
Finally, garnish the curry with coriander leaves.
Serve hot.
Over to You:
Stay healthy this season by adding this delicious and nutritious recipe in your diet!