Whole grain Farro Salad
By Nmami Agarwal 07-Sep 2020 Reading Time: 2 Mins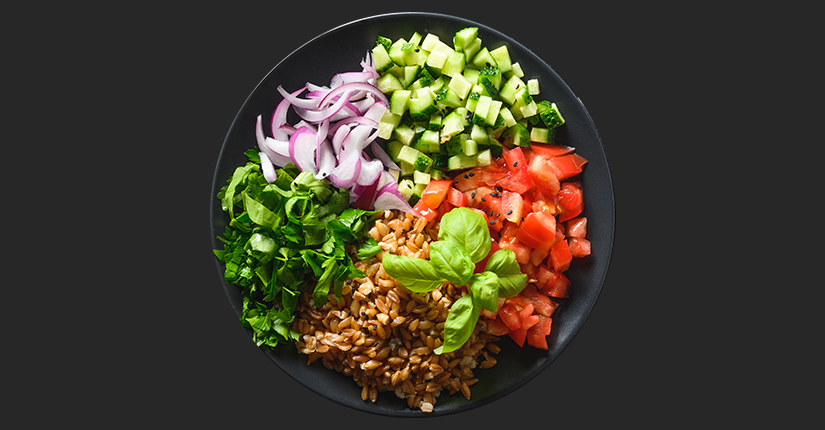 The very easy and super delicious farro salad has the goodness of whole grains along with veggies. It is both nutritious and delicious and is prepared within no time.
Nutritional Benefits:
Farro is a rich source of fibre that helps in digestion and helps to keep the colon healthy. It is good in antioxidants that prevent the free radicals. It also helps in heart problems. The veggies added along with it provide various health benefits making this salad very healthy.
Ingredients:
10 grams whole grain farro
100ml vegetable broth
Kosher salt as per taste
1 bay leaf
10 gram onion
1 teaspoon olive oil
1 teaspoon apple cider vinegar
1 teaspoon mustard
Ground black pepper as per taste
10 grams arugula
10 grams green apple
1 teaspoon basil
5 grams pecan
Per Serving:

Nutrition Info
Amount
Calories
121 kcal
Carbs
7.8 grams
Protein
9.8 grams
Fats
10 grams
Method:
Take a clean saucepan, add in the farro, vegetable broth, salt, and bay leaf.
Let it boil and reduce the stove and cook for about half hour or until the farro is cooked well.
After the farro has been cooked, turn off the gas and let it cool for some time.
On the other side, heat some oil in a skillet.
Add in the onions and cook for about 20 minutes and remove from the gas.
Take a small bowl, add in the olive oil, vinegar, mustard, honey, salt and pepper. Combine well.
Take a large plate or bowl and combine the farro, onions, arugula, green apple, basil, parsley and pecans.
Drizzle the dressing over it and serve!
Over to you:
This crunchy wholesome salad is a must try and great for summer lunches!