Spinach and Baked Eggs
By Nmami Agarwal 17-Nov 2021 Reading Time: 2 Mins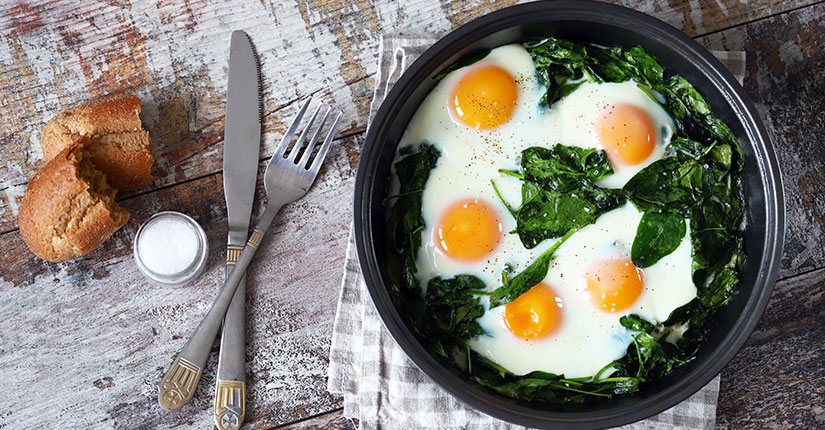 Spinach and Baked Eggs are a super amazing option for the breakfast. Since, mornings are always filled with run and rush with no time to have breakfast. So, here is this quick egg recipe which is perfect grab and go breakfast with ample health benefits.
Nutritional Benefits:
Eggs provides us with high biological value protein which helps in building up of muscles. They also contain essential omega -3 fatty acids. Spinach is one of the healthiest green vegetables which is an excellent source of Vitamin A, folic acid, nitrates that helps to reduce blood pressure levels and promotes eye health.
Ingredients:
1 egg whole
20 grams tomatoes (chopped)
60 grams spinach
1 teaspoon chilli flakes
Salt & pepper as per taste
Calorie Count:
Calorie = 132.5 Kilo calories
Protein = 5.2 grams
Carbohydrates = 7.4 grams
Fat = 5.5 grams
Method:
Firstly, heat oven to 200 degrees Celsius. Meanwhile, squeeze out excess water from the spinach and put in a separate dish.
In a bowl, mix well tomatoes and seasonings. Add this mixture to the spinach dish.
Now make a small well in the centre of dish with spinach and crack in an egg in the centre.
Bake it for 10-15 minutes. Serve hot.
Over to you-
So, enjoy this super healthy and tasty breakfast option and fill up your body with the essential nutrients.