Red Rice Khichdi
By Nmami Agarwal 20-Sep 2021 Reading Time: 2 Mins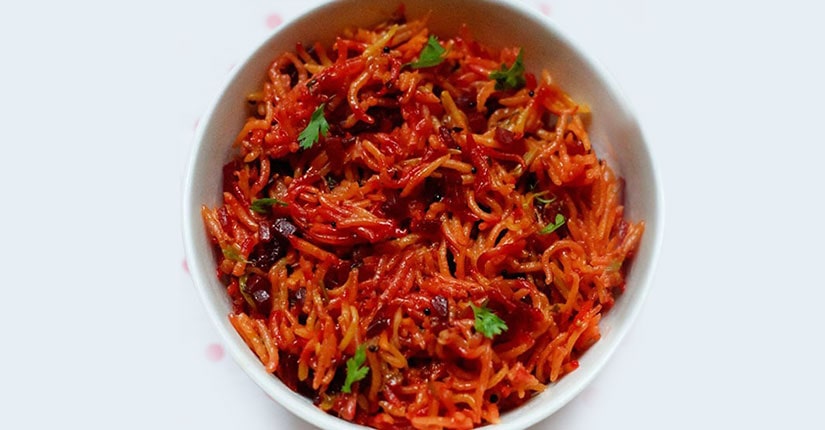 Red Rice Khichdi is a wholesome meal loaded with nutrition which satisfies your taste buds and also is an ideal meal for your fast days.
Nutritional benefits:
Rice serves as the instant source of energy. Beetroot provides you with fibre, iron, potassium, folate and Vitamin C which is good for skin and further acts as an antioxidant.
Ingredients:
20 grams cooked rice
3-4 garlic cloves
3-4 sprigs of curry leaves
20 grams onion
10 grams beetroot (grated)
1inch cinnamon stick
10 grams green gram dumplings
20 grams tomatoes
2-3 green chillies
1 teaspoon black pepper
¼ teaspoon turmeric powder
1 teaspoon red chili powder
Salt as per taste
½ teaspoon cumin seeds
1 teaspoon olive oil
3-4 sprigs mint leaves
Calorie count
Per Serving:

Nutrition Info
Amount
Calories
135.2 kcal
Carbs
14.2 grams
Protein
3.7 grams
Fats
6.5 grams
Method:
Heat oil and add cumin seeds, onion, tomato, green chillies, curry leaves and cinnamon. Stir well.
Then add 1 cup water and let it boil for some time. Now add all the vegetables like grated beetroot, green gram dumpling followed by remaining spices. Cook it for a few minutes until they soften.
Add boiled rice and mix well. Garnish with fresh mint leaves.
Serve hot with curd or yogurt.
Over to you:
Red Rice Khichdi is a perfect dish for any meal and is a combined package of good taste and ample benefits. It is for sure a must try!