Fiery Tuna Wrap
By Nmami Agarwal 04-Oct 2021 Reading Time: 3 Mins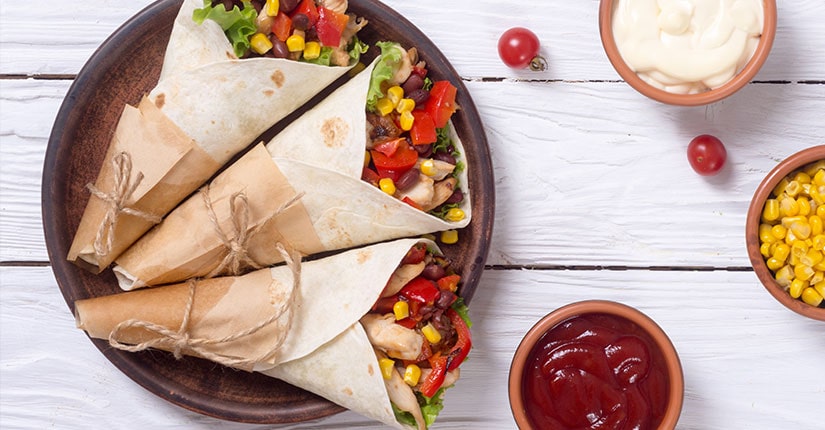 Fiery Tuna Wrap is an easy and flavourful recipe for all the tuna lovers out there. This wrap is super-healthy, delicious and filling to make it more palatable for you.
Nutritional Benefits:
Tuna is well known for having heart-healthy omega-3 fatty acids. Omega-3s help prevent the build-up of plaque in your arteries, which in turn improves blood flow throughout the body. Oats are a great source of fiber, carbohydrates and other vitamins and. They are highly rich in antioxidants especially ferulic acid which has major health benefits. It is also rich in soluble fiber which can lower cholesterol and sugar levels.
Ingredients:
10 grams oats flour
10 grams whole wheat flour
30 grams smoked tuna
20 grams onion
20 grams tomato
2 cloves of garlic
2-3 green chilies
¼ teaspoon turmeric powder
1 teaspoon olive oil
Water as required
Calorie count
Per Serving:

Nutrition Info
Amount
Calories
184.6 kcal
Carbs
16.4 grams
Protein
10.1 grams
Fats
7.2 grams
Method:
Combine oats flour, whole wheat flour and knead the soft dough using little water.
Cover and keep this aside for ten to fifteen minutes.
In a pan, heat oil. Add garlic, onion until they turn brown in colour.
Now, add tomato followed by smoked tuna and spices. Mix well and let it cook till the chicken is tender. Put the mixture aside once it is cooked.
Roll the dough into a round roti using a little wheat flour
Heat a tawa over moderate flame and place roti over it.
When small bubbles start forming, turn it over, and cook it from the other side.
Press the edges with a spatula so that the edges are also cooked well.
Cook it evenly from both sides. When cooked, with the help of a spoon apply the mixture on the chapati and twist it to form a wrap.
Serve hot.
Over to you
Try on this healthy recipe that is easy and quick to make and can be added to one of your meals.