Baked Zucchini Amaranth Fritters
By Nmami Agarwal 06-May 2021 Reading Time: 2 Mins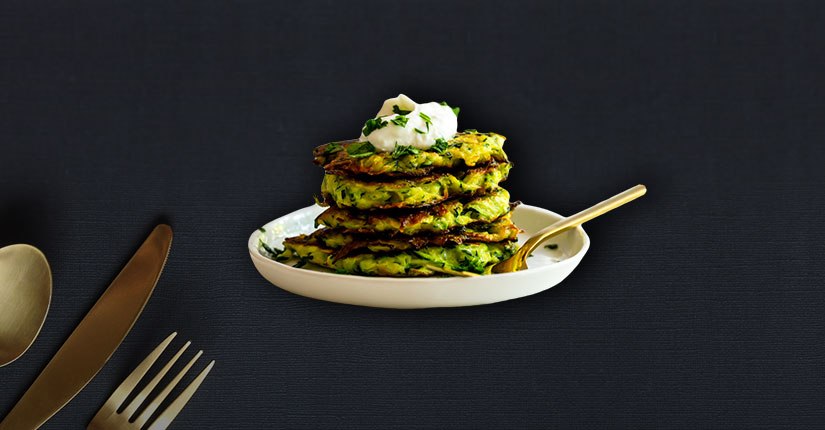 Baked Zucchini Amaranth Fritters is an amazing snack to try upon and relish during your tea time.
Nutritional benefits –
Whole pulses like Chickpea are quite important. They are energy dense, have good amounts of fiber and improve digestion. Apart from this Chickpea are also a very good source of Calcium and protein. Amaranth flour is said to have ample health benefits. It is rich in calcium, protein and also minerals like iron, magnesium, vitamin A, vitamin B and vitamin C.
Ingredients –
20 grams of amaranth
10 grams boiled chickpeas
20 grams of zucchini
20 grams of onion
1 teaspoon chili powder
½ teaspoon cumin
Salt and pepper as per taste
5 grams of oil
Calorie count
Per Serving:

Nutrition Info
Amount
Calories
98.5 kcal
Carbs
9.8 grams
Protein
2.8 grams
Fats
6.15 grams
Method –
1. Preheat the oven to 150 degrees Celsius
2. Then take a pressure cooker and cook these amaranth along with chickpeas until 1 whistle.
3. Then take a bowl and add cooked amaranth, chickpeas along with grated zucchini, finely chopped onion and all the spices.
4. Mix well and form patties out of it.
5. Grease the baking tray and then bake these patties at 150 degree Celsius for at least 10-15 minutes.
6. Serve hot with homemade chutney.
Over to you-
This baked zucchini amaranth fritters is a must try dish. So, try this yummy recipe during your tea time along with your favorite dip or chutney.