Cauliflower turmeric soup
By Nmami Agarwal 02-Apr 2020 Reading Time: 2 Mins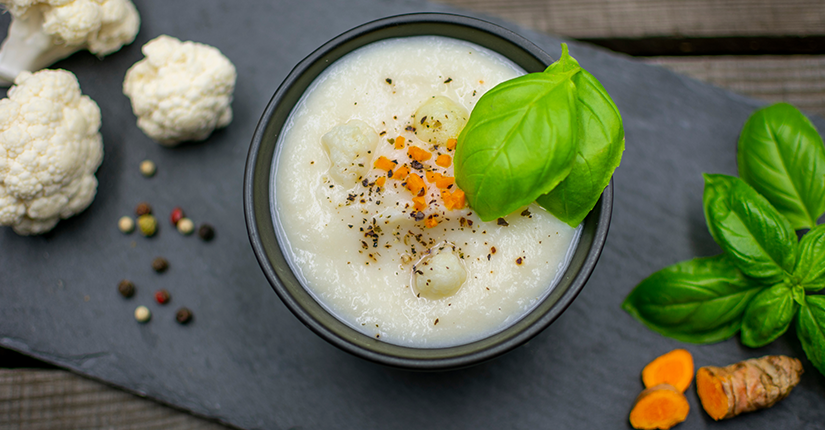 Beat away all the winter blues with this healthy, nutritious and delicious cauliflower turmeric soup. The perfectly roasted cauliflower gives a distinctive taste and relishes your taste buds with amazing health benefits.
Nutritional benefits: Cauliflower is good in fiber, B vitamins, antioxidants and phytonutrients that can protect against cancer. The fiber in it helps with digestion and constipation. The antioxidants in cauliflower help in chronic diseases. Turmeric provide a range of health benefits as it has powerful antioxidants and anti-inflammatory properties.
Ingredients:
30 grams cauliflower
20 grams potato
5 grams onion
5 grams carrot
½ stick of celery
1 clove of garlic
5 grams oil
1 teaspoon turmeric
Sat and black pepper as per taste
100 ml Vegetable stock
Per Serving:

Nutrition Info
Amount
Calories
82 Kilo
Carbs
7.5 grams
Protein
1.2 grams
Fats
5.5 grams
Method:
Gather all the vegetables and was them thoroughly.
Preheat the oven at 200ºC.
Cut the cauliflower into florets and layer them on the baking sheet.
Sprinkle some olive oil to cover the florets. Sprinkle some salt and pepper.
Roast the cauliflower for about 15 minutes till they are brown.
Heat some oil in a pan and add in the onion, celery and carrots.
Stir and cook for about 2 minutes, then add in the garlic.
Cook for 5 more minutes and add in the cauliflower, turmeric and vegetable stock.
Add in some potato chunks and cook for about 10 minutes.
Remove from the flame, allow it to cool and blend in the food processor.
Add in herbs of choice if required and garnish with small cauliflower chunks and coriander leaves.
Serve hot and enjoy!
Over to you:
Cauliflower turmeric soup is very nourishing, vibrant and delicious with warming spices that gives a boost to immunity. Enjoy this soothing and gratifying to eat soup!