Chickpea Bowl
By Nmami Agarwal 13-May 2022 Reading Time: 3 Mins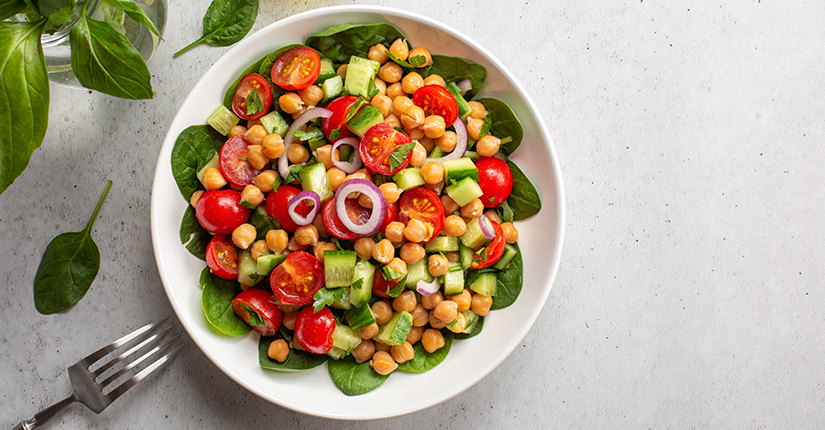 It is a dairy free, vegan recipe packed with nutrients that can be had for lunch or early dinner. It is prepared in less than 25 mins and has a number of positive health benefits.
Benefits
As a rich source of vitamins, minerals, and fibre, chickpeas offer a variety of health benefits, such as aiding weight management and improving digestion. The fibre, potassium, B vitamins, iron, magnesium, and selenium in chickpeas all support heart health.
Spinach is rich in many nutrients, including Vitamin A, Vitamin C, Vitamin K, iron, folate, and potassium. Spinach is chock full of fiber.When eaten in moderation, spinach helps in reducing the risks of high blood sugar, high blood pressure, and cancer.
Almonds have a wide range of nutrients such as vitamin E, a key nutrient that slows down the ageing of brain cells that might impact memory. They are also rich in Omega 3 fatty acids, Vitamin B6 and zinc which all contribute to maintaining the immune system and also keep the brain active.
Chickpeas, spinach and almonds all being high in fibre, they are excellent for weight management as they contribute to appetite suppression.
Ingredients
vegetable oil, for frying
½ large onion, finely chopped
1-2 garlic cloves, crushed
1 cm piece of ginger, peeled and grated
½ tsp ground coriander
1 tsp ground cumin
½ tsp ground turmeric
½ tsp fenugreek
200g can chickpeas, drained and rinsed
150 ml vegetable stock
1 tbsp unsalted almond butter
100g spinach, roughly chopped
cooked rice, to serve
Calorie Count
Calories
356 Kcal
Fat
14 grams
Carbohydrates
33 grams
Protein
18 grams
Method
Heat some oil in a pan over a medium heat and fry the onions for 5 mins. Add 50ml water and cook for 7 mins more until just brown. Add the garlic and ginger.
Combine the coriander, cumin, turmeric, fenugreek and some pepper with 2 tbsp water, and tip into the pan. Cook for 5 mins more, then stir in the chickpeas.
Stir in the stock and almond butter, then add the spinach and cook for 3-5 mins more until the spinach has wilted. Serve over rice.
Over to You
All three main ingredients are rich in fibre so moderation is the key when you have this dish. Eating too much fibre can cause gas, cramping, and abdominal pain. Make sure to have enough water to avoid bloating if you go overboard.