5 Essential Self-Care Tips for Breastfeeding Moms
By Nmami Agarwal 22-Jun 2022 Reading Time: 7 Mins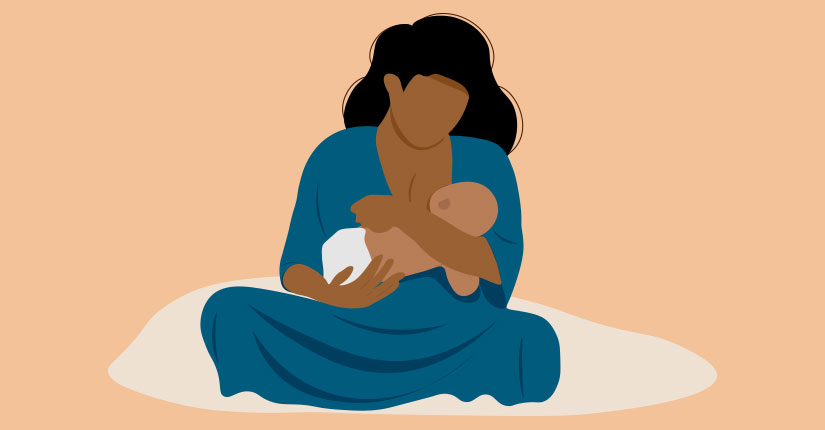 Being a mother is a challenging task and with her tasks like breastfeeding, the overall process can become a bit overwhelming. Here is the thing, mothers have to learn to prioritise self-care as mothers tend to channel all their energy into taking care of their newborn babies and somehow end up neglecting their own health. Mothers forget that they need to care for themselves as well as the baby.
There's so much to think about with remembering when the baby's last feeding was, making sure the baby's positioning and latch are correct, and counting dirty diapers, that you can easily leave your own well-being at the doorstep.
However , it's essential to take care of your needs as well as your child's. Here are some tips for self-care—including nutrition, weight loss, exercise, hygiene, and emotional health—for breastfeeding moms.
Adequate rest – As a newborn baby has no fixed schedule and needs to be fed seven to eight times a day, a new mother who is breastfeeding can be overwhelmed by exhaustion. She may not be able to get six to eight hours of solid sleep until the baby has settled i​​nto its own schedule a few months down the road. The mother should try to catch some sleep when her baby is sleeping, and relieve herself of all responsibilities other than feeding the baby and taking care of herself. This is because sleep deprivation will affect her breast milk.
Good nutrition – A new mother should have a balanced diet of five to seven servings of carbohydrates in the form of whole grains cereals, roti, paratha or rice,two servings each of fruit and vegetables and two to three servings of meat or plant based protein and low-fat dairy to make sure she has enough protein, iron and calcium. These are important nutrients, especially for postpartum and breastfeeding mothers. Those who are breastfeeding need an extra 500 calories on top of their daily 1,800 to 2,000 calories.
Hydration – It is a myth that mothers should not drink water during confinement, as that will supposedly cause water retention. In fact, it is important for women to drink eight to 10 glasses of fluids, including water, per day. This allows them to hydrate themselves and to have adequate breast milk production.
Physical exercise – After delivery, many of the physical changes of pregnancy will persist for four to six weeks. Women should resume pre-pregnancy exercises gradually. New mothers can aim to exercise at least three times a week, with each session lasting 30 minutes. They should ensure that they have at least five to 10 minutes of warm-up and cooling down exercises. Exercise is also more comfortable for them if they breastfeed before doing so. Adequate nutrition and hydration are also important before starting on exercise. They should aim for 1 to 2kg of weight loss a month.Excessive weight loss may lead to a decrease in milk production.
Relaxed mental state – The new mother should try to rest as much as possible as due to the hormonal changes after birth, she may experience "baby blues" two to four days after the birth of her baby. It is normal to feel emotional, or have the urge to burst into tears for no apparent reason or for reasons that may seem trivial to others. She may also feel anxious, guilty, sad and even afraid she cannot cope with her newborn baby, but recovery usually occurs in a few days. To maintain a relaxed mental state, focus on spending a quality Me-time. Set self care dates where the mother can take herself on a date, eat her favourite meal, watch her favourite movie, listen to some good music and enjoy the present moment rather than worrying about the future.
Time Management – When breastfeeding, it is so easy to get lost in the schedule of feedings, diaper changes, and household chores. To avoid the confusion, plan your daily schedule and short goals for the day. Small wins will boost your motivation and make you feel happy. Mothers can utilise their time during feeding and pumping where they can watch their favourite movie or listen to music, podcasts or read anything that they like. Basically, it's the time which would be of zero distractions, so mothers please make the most of it. Also, don't overwhelm yourself with work and meeting deadlines, you can utilise your support system by delegating it to your friends and family.
Over to You: Try to focus on enjoying this chapter of motherhood because it goes by quickly. In the end, you will cherish the memories of your baby; and whether or not your to-do list gets done, will not matter.