6 Nutritional Tips to Stay on Track after You Quit Smoking
By Nmami Agarwal 11-Mar 2020 Reading Time: 5 Mins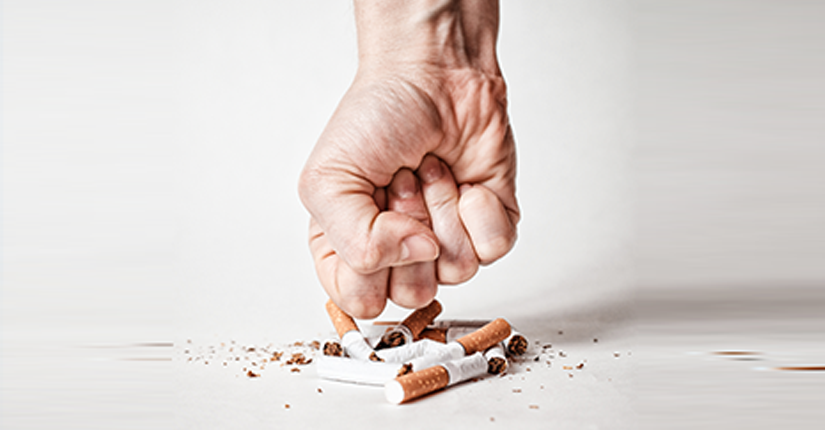 6 Nutritional Tips to Stay on Track After You Quit Smoking
Quitting smoking can be a tough decision to take but surely gives you high returns, only if you stay adamant to sticking to this decision. Initially, quitting smoking is an uncomfortable and awkward state for newbies but not much proof would be required to say that it will give you ample benefits and would save you from a number of diseases.
Most of the people who quit smoking experience a gain in their weight. And form many, it is temporary and falls back off. Reasons for sudden weight gain is most often really only about eating more calories in the course of a day than you did as a smoker.
Here's a plethora of nutrition tricks which you could adapt once you quit smoking:
Drink enough water: Keep sipping water even if you don't feel thirsty as it will prevent the chance of developing a craving or missing smoking. Keeping your hydration levels up to the mark will also ensure that you consume less junk food and in turn help in weight management.
Eat small and frequent meals: Good fibre intake which makes a balanced diet including all the five food groups should be a priority. Redesign your schedule and add on more mini eating breaks into it. Have easy, simple food or beverages like lime water or fruit. This will keep you busy and focussed. Moreover, help you stay away from cravings.
Avoid alcohol and coffee: Both alcohol and caffeine is an addiction too and trying to leave one addiction should not make you fall for another. These drinks could get the memory of smoking again and could be a trigger. So try shifting to fruit juices or water.
If consuming gums, go for sugar free gums: Keep gums or something like carrot or radish slices (as salad) handy as a substitute to munch on. When you crave having a cigarette, having one of them could be a good option. You can chew on nicotine gums under an expert's recommendation.
Nibble on healthy snacks: Foods like apples, and other healthy snacks such as roasted makhana, can help satisfy your need for crunch without adding extra kilos. Avoid spicy and sugary foods. Spicy and sugary foods tend to make people crave cigarettes more and make you feel hungrier.
Stretch out meals: Eat patiently and pause between bites to make it more satisfying. For dessert, grab a fruit (keep a gap of one hour after dinner) , or crack some nuts – something that will keep your hands busy, too.
Above all, go for a run or jog as physical activity is a must and will help relieve tension. Reward yourself to keep going and
Over to you
If you haven't quit smoking yet, take a little time to stock up your kitchen with healthy snacks. A little preparation can go a long way toward helping you avoid smoking and cherishing your non-smoking self.
If you still are not sure about your decision on quitting or still reach out for a cigarette, reach for help instead. Ask your friends and family for help or join a support group.