Spiced Rose Hummus
By Nmami Agarwal 30-Mar 2022 Reading Time: 2 Mins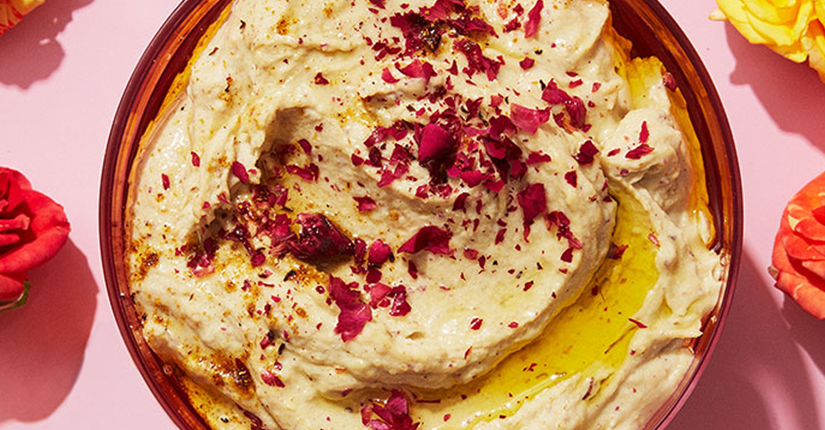 Spiced rose hummus is a reinvention of that basic hummus with a creamy colorful taste. The rose brightens both the color and flavor of the hummus. This is a super creamy and garlic flavor that goes great with chips, pita, or veggies or as a sandwich spread
Nutritional benefits:
Split yellow peas are good in protein and fiber and contain nutrients that prevent chronic diseases. Tahini is good in manganese and phosphorous and helps in bone health.
Ingredients:
10 grams dried yellow split peas
5 grams tahini
1 garlic
½ lemon juice
1 teaspoon olive oil
1 teaspoon rose spice mix
A pinch of kosher salt
Edible rose petals for garnish
Calorie Count
Calories
86 Kcal
Fat
4.8 grams
Carbohydrates
8 grams
Protein
3.5 grams
Method:
Place the pan on a medium flame and boil the yellow split peas in water along with garlic for about 20 minutes or until the split peas are tender.
Then remove the pan from heat and smash the garlic and peas and stir vigorously to form a smooth paste.
Add all the remaining ingredients and blend along to form a smooth paste.
Store in an air-tight container for up to a week in the fridge.
Over to you:
This delicious spiced rose hummus is a different and nutritious add-on to give your snacks a pretty color and flavor along with nutritional benefits.