SABUDAANA KEBAB
By Nmami Agarwal 13-Jan 2020 Reading Time: 2 Mins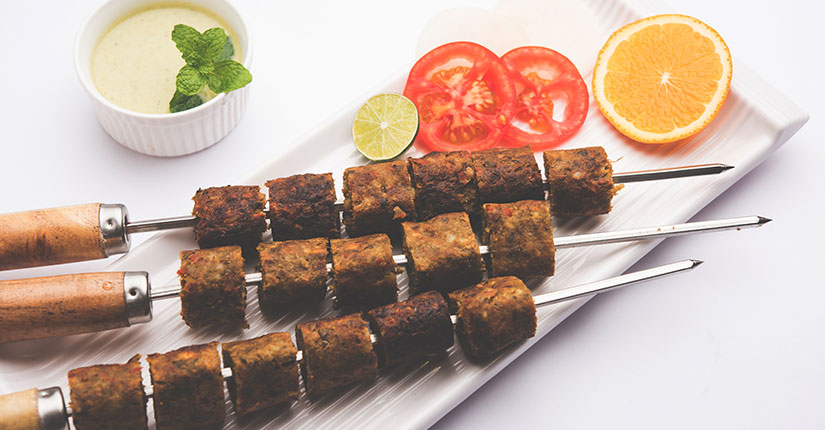 Sabudana kabab is an amazing dish which is liked by the people of every region. A perfect starter for weekends or a festival made with sago and vegetables. It is a delicious as well as healthy dish because it contains large amount of healthy nutrients.
NUTRITIONAL BENEFITS: Sago/Sabudana is a good source of protein which is required for the growth of muscles. It promotes healthy blood flow, reduces appetite and improved digestion. Beetroot is packed with essential nutrients and ia great source of fibre, folate, iron and vitamin C.
INGREDIENTS:
20 grams potatoes (boiled and mashed)
10 grams sago (sabudana; soaked overnight)
15 grams Carrot (finely shredded)
10 grams Beetroot (finely shredded)
10 grams Capsicum (finely diced)
Ginger-garlic paste – 1 tsp
Green chilies – 1 tsp (finely chopped)
Red chili powder – 1 tsp
Coriander powder – 1 tsp
cumin powder – 1 tsp
amchur powder – 1 tsp
Salt to taste
Freshly chopped, coriander leaves
Skewers/wooden sticks – 3-4
Oil 1 tsp
Per Serving:
Nutrition Info
Amount
Calories
109 kcal
Carbs
15.6 grams
Protein
0.7 grams
Fats
5 grams
METHOD:
Take a large bowl.
Mix all the ingredients to form a smooth mixture.
Divide the whole mixture in equal size portions.
Take one ice cream stick and one portion of mixture.
Stick that mixture on one end of stick.
Give it a shape of seekh kabab by pressing the mixture lightly with hands.
Heat a non-stick tava or a grill pan.
Put the kebab on the tawa, flip them regularly till it is crisp and cooked.
Serve hot with green chutney or tomato ketchup.
Over to you
Easy to make and an absolute crowd pleaser, these kebabs will make an evening party a sensational hit. Surprise your family and friends by preparing this restaurant style Sabudana kabab at your home.