Quinoa walnut porridge
By Nmami Agarwal 30-Jan 2020 Reading Time: 2 Mins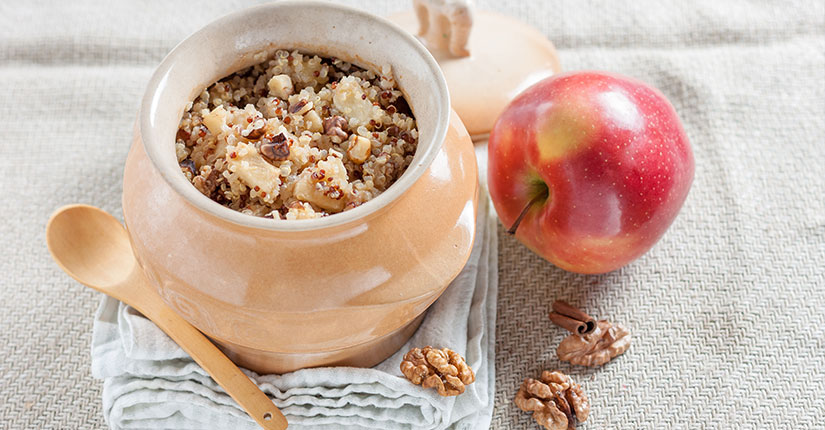 Quinoa apple parafit is a perfect snack to satisfy your taste buds. It is easy to prepare with layers of apple compote, yogurt and quinoa to give you a relishing and delicious taste with ample benefits.
Nutritional benefits –
Quinoa is a multi-beneficial grain which is a rich source of protein as well as fiber. It is also fair source of magnesium, potassium and B vitamins. Apples are fair source of fiber and have certain constituents that are good for your gut. They also contain Vitamin C and hence act as antioxidants. Walnuts are rich in antioxidants and omega-3 levels. They have good amount of fiber as well and add high nutritional benefits to the dish.
Ingredients –
20 g quinoa
5g walnuts
40g apple
1 teaspoon cinnamon
1 teaspoon vanilla extract
Nutrition Info
Amount
Calories
99 kcal
Carbs
13.2 grams
Protein
1.8 grams
Fats
7.7 grams
Method –
Bring quinoa to boil until the water has been absorbed to half.
Cut the apples into small pieces and finelly chop walnuts as well.
Now prepare the mixture by mixing quinoa, vanilla extract and cinnamon together.
Take Add the cut apples and walnuts into it.
Your quinoa walnut porridge is ready.
Over to you:
So Sit back and Enjoy this healthy yet easy to make Quinoa walnut porridge at your home.