Healthy salmon bowl
By Nmami Agarwal 08-Jan 2021 Reading Time: 2 Mins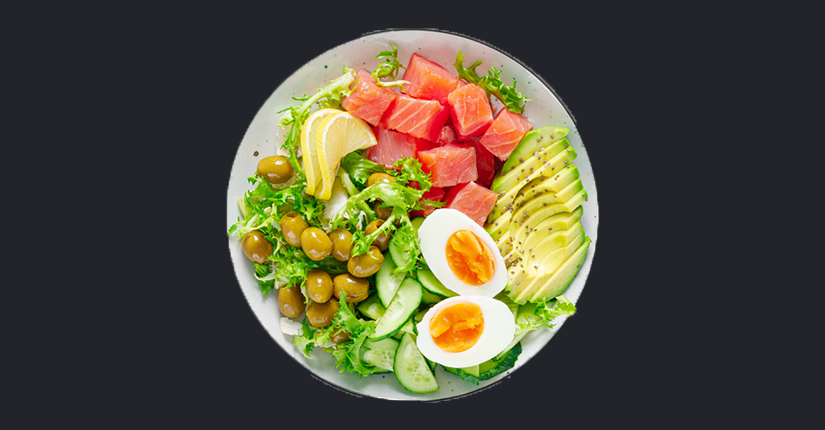 Healthy salmon bowl is a relishing bowl filled with an amazing blend of flavors to have during this winter season.
Nutritional benefits
Fish is enriched with high quality protein, omega -3 fatty acids, vitamins like vitamin D and vitamin B2 and minerals like calcium, phosphorus, iron, zinc, iodine, magnesium and potassium. It is advisable to consume Fish at least twice a week since the nutrients in fish can lower the risk of blood pressure or occurrence of any heart disease.
Ingredients
20 grams couscous
100 grams salmon (2 fillets)
20 grams broccoli
10 grams of pomegranate
5 grams of Pumpkin seeds
1 teaspoon lime juice
1 teaspoon olive oil
Salt and pepper as per taste
Per Serving:

Nutrition Info
Amount
Calories
153.2 kcal
Carbs
8.2 grams
Protein
7.9 grams
Fats
7.8 grams
Method
Take a sauce pan and boil couscous and broccoli florets along with 1 cup of water.
Meanwhile marinate salmon with lime juice and olive oil.
Grill the salmon fillets in a griller.
Then toss boiled couscous, broccoli florets, pomegranate pearls and pumpkin seeds with lemon juice.
Add salt and pepper as per taste.
Serve hot with Grilled salmon.
Over to you
So, enjoy this healthy and tasty wholesome fish bowl along with the goodness of couscous, broccoli, pomegranate and pumpkin seeds.