Creamy Broccoli Almond Soup
By Nmami Agarwal 08-Aug 2021 Reading Time: 2 Mins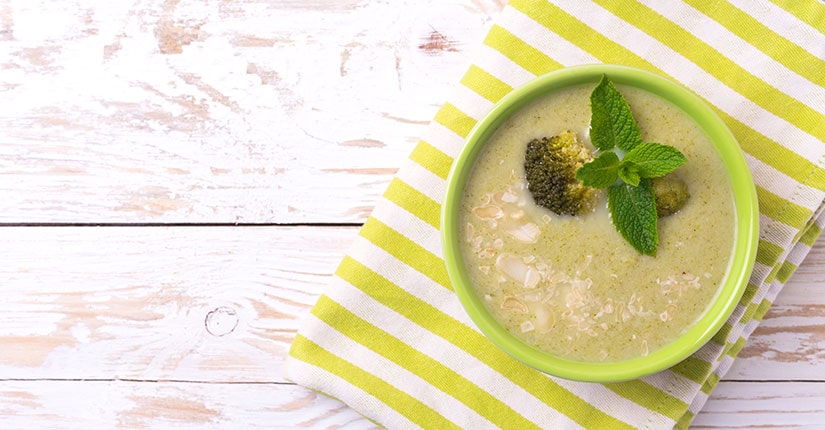 The creamy, light broccoli almond soup gives a boost of protein. The goodness of broccoli and crunchiness of almonds makes the soup very delicious and rich in nutritional composition. This soup is easy to prepare in winter.
Nutritional benefits:
Broccoli has a good amount of fiber and protein. Broccoli is good in iron, calcium, magnesium and various vitamins that help in keeping the bones healthy
Ingredients:
20 grams broccoli (chopped)
10 grams broccoli stalks
10 grams onion (chopped)
5 grams garlic
10 grams celery
Salt to taste
20 ml low-fat milk
1 teaspoon ground black pepper
5 grams roasted almonds
Calorie count
Per Serving:

Nutrition Info
Amount
Calories
63 kcal
Carbs
6.66 grams
Protein
3.07 grams
Fats
3.33 grams
Method:
Heat 2 cups of water in a skillet and add the broccoli stalks to cook for 5 minutes.
Add the remaining ingredients for cooking
Cook well for 5-10 minutes and then turn off the flame.
Blend it using a blender until it becomes a smooth consistency.
Take a clean pan and add broccoli mixture and milk and allow to cook for 5-7 minutes.
Now add the pepper powder, roasted almond slices, and cook for another 1-2 minutes.
Serve it hot by garnishing it with roasted almond pieces.
Over to you:
This Broccoli & Almond Soup is nourishing, delicious, and bound to make you feel comforted.