Non-Dairy Alternatives – All about Nut Milk
By Nmami Agarwal 06-Apr 2020 Reading Time: 5 Mins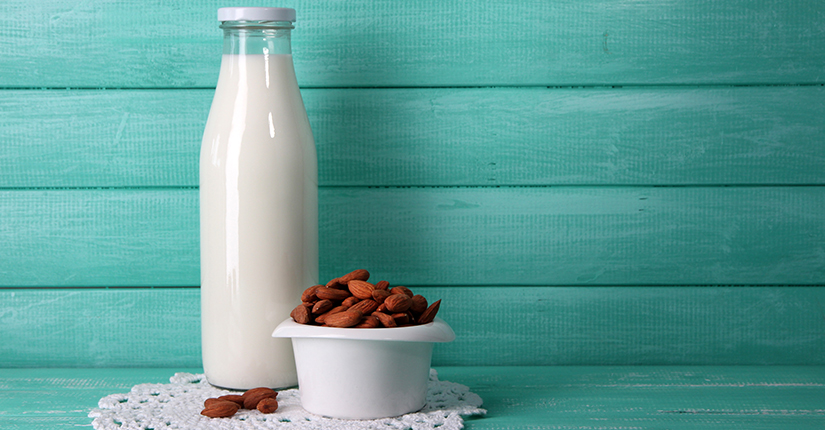 Since time immemorial, we have been consuming different kinds of dairy products. Dairy products are a type of food that is either produced or contains the milk of mammals. Be it milk, butter, yogurt or cheese, dairy products have always been inseparable from our diet. We have been reminded that they are rich in calcium and Vitamin D and strengthen the bones. Moreover, they provide protein, potassium, and magnesium to the body.
But there is another side to this story. A lot of the population is lactose intolerant which means they are unable to digest the sugar present in milk. The dairy industry can also be brutal to animals.Lactose intolerance can lead to unpleasant digestive symptoms like bloating, flatulence, and inflammation . Taking all this into consideration, we are here to talk to you about non-dairy alternatives that can prove beneficial to not just your body but even the environment.
The world has started acknowledging how making a switch from dairy to non-dairy products is essential. One effective switch that can be achieved is from cow milk to nut milk. Nut milk is made by a different variety of nuts. The skin of nuts is removed and then the nuts are toasted. After that, they are soaked in water. The nuts are then crushed and blended with water. Nut milk is an excellent non-dairy alternative and should be included in your diet. Here are 2 nut milk that you should try out:
Almond Milk: It is highly nutritious and low in calories and sugar as compared to cow's milk. Enriched with Vitamin D and E, almond milk is a good source of calcium. It not only strengthens your bones but it also promotes a healthy heart. Almond milk can easily be included in your diet as a healthy and refreshing drink. You can even add it to tea, coffee, cereal or oats. It can be used in baking and is a smart alternative to regular cow milk.
Cashew Milk: Creamy and nourishing, cashew milk is a non-dairy beverage that can be made at home. All you need to do is soak a handful of cashews overnight and then blend it with water. It is loaded with nutrients such as fats, vitamins, and proteins. In addition to this, cashew milk can aid in boosting immunity and improve eye health. It is good for the skin and regulates blood sugar levels.
Walnut Milk: Walnuts are rich in Omega- 3 Fatty Acids. Omega 3 essential fatty acids are so often lacking in western diets despite the fact that they are much needed for optimal health and wellness. Omega 3's are brilliant for brain health. Omega 3's are also excellent for the circulatory system and great for overall health because of anti-oxidant and mineral levels.
Look at a few reasons why you should start consuming nut milk:
Appropriate for lactose-intolerant people
Full of calcium, vitamin D and fibers
Carbohydrate free
A great alternative to cow's milk
Effective for people who have a dairy allergy
An essential element in a vegan diet
Adds a new and refreshing taste to your palate
Over to you
Nut milk is emerging and marking its necessity in the non-dairy world. Along with being nutritious, they are also delicious and refreshing. If you are allergic to nuts, you'll have to stay away from all kinds of nut milk. You can still try soy milk or coconut milk.