Healthy Dusshera: Let Good of Food Take over Bad
By Nmami Agarwal 25-Oct 2020 Reading Time: 5 Mins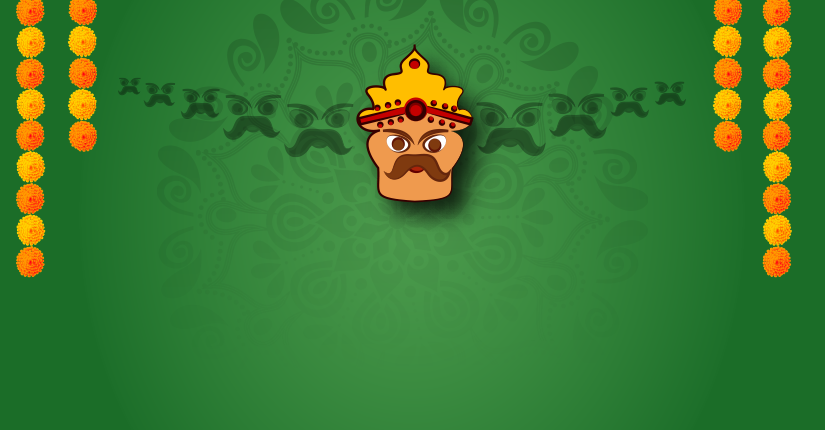 Dussehra is celebrated with fervour and enthusiasm in India. It is believed that as the effigy of Ravana is set on fire, the demons and evil residing within you is demolished and you walk out as morally righteous and a good human being. Hence on this auspicious occasion of Dussehra, how about winning over your bad food habits, with good ones? If you don't know where to start from, read on.
Replace the refined.

Refined products like flour, sugar, salt, and oil should be replaced in your kitchen. They have high caloric content and provide no nutrition to your body. They lead to serious health issues like obesity, heart disease, high blood pressure, and type-2 diabetes. They get digested quickly and have a high Glycemic Index(GI), which leads to rapid spikes in blood sugar and insulin levels after meals. Instead have whole foods like- whole grains, and legumes, natural sugars from fruits, naturally occurring iodine in pink Himalayan salt, and ghee.

Include fresh not frozen.

Frozen foods are used so frequently in the kitchens, and are most popular in supermarket shelves. Such foods like frozen fruits, frozen dried fruits, frozen soup, frozen peas and frozen corn are not just preserved but also lack nutritional values. So, instead, go for fresh food items enriched with all the necessary nutrients and fibre.

Cut back on caffeine.

A cup of coffee is getting the centre spot in everyone's life these days, whereas tea and soda have existed in Indian diets for decades. All these caffeinated beverages curb hunger, reduce the absorption of calcium, and act as a stimulant. Instead of having them each day, try to have more green or herbal teas with natural ingredients like ginger, peppercorns, clove, cinnamon, or cardamom. They will not only make you feel fresh but also add up to your health.

Replace fast foods with home-made nutrient-dense options.

Fast or junk food is but a result of a lot of processing. They pile up your system with health woes and affect your gut flora. Instead of having them, choose more home-made, nutrient-dense, and easy to digest options like vegetable zoodles instead of noodles, baked sweet potato fries instead of french fries, or whole wheat, quinoa, black bean pasta with home-made tomato sauce or pesto instead of white flour, packaged pasta sauce pasta.

Rethink your binging snacks.

While you enjoy taking a day off from your schedule and binge-watch your favourite TV shows, make sure that you do not place a burden on your gut and digestive health by having unhealthy snacks. Try to include food items like makhana, air-fried popcorns, roasted dry fruits, nuts and seeds, or kale chips. This can do more good than you can probably think of.
Over to you.
Having bad food habits or leading an unhealthy lifestyle can really fill your body with toxic materials. Hence, this Dussehra try to let the good in food make its way to better your mental as well as physical health. Do not give in to the fad diets, understand and accept what's more sustainable for a better living. All in all, Re-think to Re-connect.