Learn How to Ace Home Workouts Using Furniture
By Nmami Life Editorial 13-Sep 2020 Reading Time: 4 Mins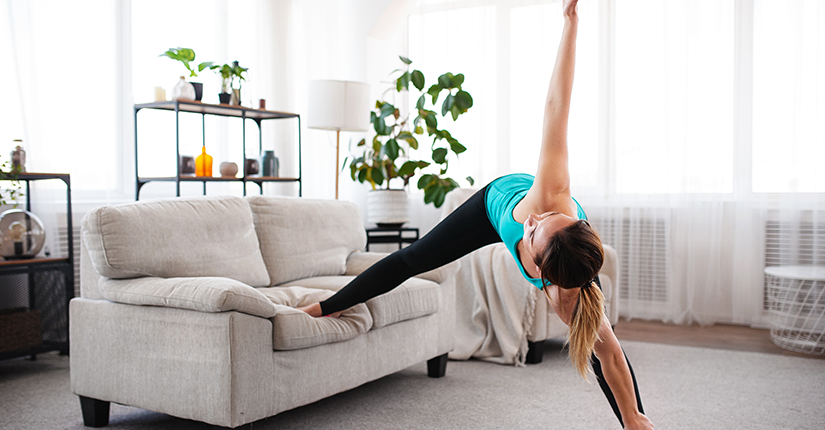 India though, still in an alarming battle with the coronavirus pandemic, is moving towards unlock. 
With unlock 4.0 currently in place, the Indian government has given a green signal to gyms and fitness studios. But, the skepticism and agitation ain't leaving our minds so soon. While, a lot of people are trying innovative and fun ways to keep up with their fitness levels, uncertainty as to improvements and 'what next' is obvious. 
How about using some furniture to enhance your stamina and workout sessions? 
Sofa for-
Abs is the most stubborn to get and need discipline. Tummy tucks can help in toning them.
Here's how to:
-Sit on the edge of the sofa with both hands placed next to your hips. 
-Keep your spine straight, and knees lifted at 90°.
-Inhale keeping your abs tightly inwards. 
-Now, without curving your spine, hinge back as far as you can. 
-Exhale and bring your knees-up to the hip height still at 90°.
-Lower your legs keeping the core intact and tap your toes on the floor, holding the hinge position.
-Do it for 3 sets*20 reps. Voilà, you got done with an ab workout. 
Inclined mountain climbers:
Cardio is important to work on total body fat percentage and for your heart too.
Here's how to:
-Place your hands on the sofa, facing towards it in a plank position. In a rapid movement draw alternate knees in, towards your chest. 
-Do it for 1 minute* 3 sets. 
Bed or drawing room table for triceps dips:
Triceps workouts are to tone your shoulder muscles.
Here's how to:
-On the edge of the table of the bed, place your hands right below your hips. 
-Stretch your feet in a reverse plank position. 
-Lift your bodyweight up using the strength of your hands. 
-Lower your hips down, bending the elbow and ensure that they don't touch the floor. 
-For maximum benefit, do not bend your knee. 
-Do this for 3 sets*20 reps 
Decline push-ups using chair:
Push-ups are amazing when you are trying to build your chest up.
Here's how to:
-Rest your toes on the chair and place your hands on the ground while keeping your knees straight. 
-Go down as much as you can, bending your elbows. Then come back up, in a controlled motion. 
-Do this 3 sets*15 reps. 
Wall sit-ups are great for strengthening your legs.
Here's how to:
-Stand by keeping your back straight against the wall.
-Lower your hips down and bend your knees at a 90° angle, in a way to mimic sitting on a chair. 
– Hold this position for at least 30 secs. 
Over to you.
Maintaining good health and keeping oneself fit while at home, is one of the biggest challenges. But, with practice, consistency and a little upgraded variation of workout using your home furniture, can add a little fun twist or at least get you in the habit of exercising regularly.