Tricolor Dumplings
By Nmami Agarwal 26-Jan 2021 Reading Time: 2 Mins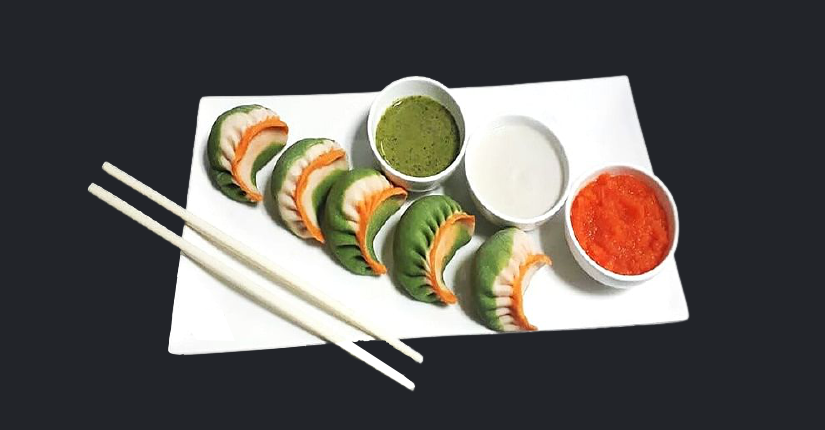 Tricolor dumplings are filled with goodness of spinach, carrots and paneer which makes a perfect snack to munch upon along with evening Tea or Coffee.
Nutritional benefits
Spinach which is one of the main ingredients of this dish is an excellent source of Vitamin A, Vitamin K, Vitamin C and folate and also is a fair source of manganese, magnesium, iron and vitamin B2. Paneer is rich in calcium and high biological value protein.
Ingredients
20 grams of Spinach
30 grams of carrot
20 grams of cabbage
20 grams of crumbled paneer
1-2 green chillies
Pinch of nutmeg powder
20 grams of maida (wheat flour refined)
Salt and pepper as per taste
Pinch of baking powder
Pinch of orange food color
Per Serving:

Nutrition Info
Amount
Calories
137.8 kcal
Carbs
16.1 grams
Protein
5.6 grams
Fats
5.3 grams
Method
Take a sauce pan and add 2 cups of water into it.
Boil spinach leaves and carrot in it until soft.
Puree both of them separately and keep aside.
Then, take a bowl and mix finely chopped cabbage, crumbled paneer, chopped green chilies along with spices and mix well.
Then take maida or wheat flour refined and sieve it along with pinch of baking powder.
Then knead the dough and divide the dough into 3 parts.
Knead 1 part with spinach puree, 1 with the carrot puree and pinch of orange food color and keep the third one as it is.
Roll the 3 doughs, then add fillings and make it into the shape of dumplings.
Serve hot
Over to you
Try this yummy recipe of Tricolor dumplings and have it with mint or tomato dip or with freshly prepared soup.