Sheer Khurma
By Nmami Agarwal 02-May 2022 Reading Time: 4 Mins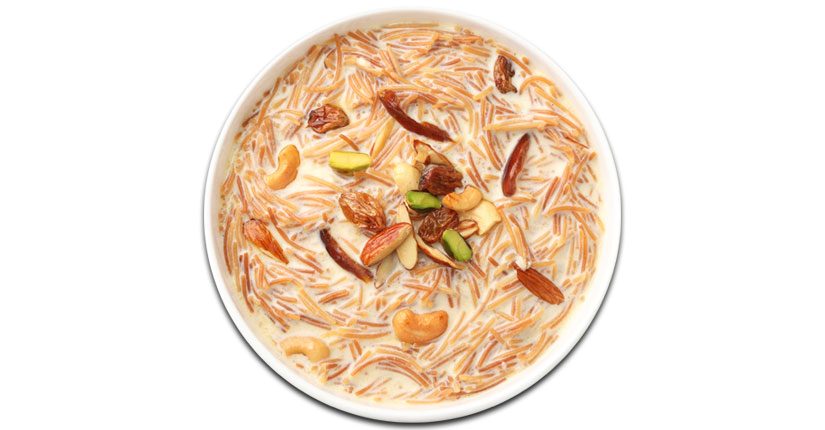 In Persian, Sheer means milk and khurma means dates.The pudding is rich with the goodness of dates.Most recipes of any milk pudding use a lot of sugar but dates and raisins are the only natural sweeteners in this recipe.Apart from being lactose-free, the almond and soy milk add to the natural nuttiness and sweetness of the kheer.
Benefits
This dish can be had by a lactose intolerant patient as it is dairy free. Ghee has a very little amount of lactose and helps reduce unhealthy cholesterol levels due to its high presence of Omega 3 fatty acids.
This is a 100% natural sweet dish thus making it even healthier for any individual.
Dates contain several types of antioxidants that may help prevent the development of certain chronic illnesses, such as heart disease, cancer, Alzheimer's and diabetes.
Pista and Almonds both have high levels of unsaturated fatty acids and thus they contribute to maintaining a healthy heart.
Ingredients
100 ml almond milk,
200 ml soy milk,
7 dried dates, soaked overnight in water,
¼ cup wheat vermicelli/ seviyan,
4 raisins,
1 tsp cardamom powder (freshly made),
1 tbsp chopped almonds and pistachios,
a pinch of saffron, ½ tbsp clarified butter / ghee*
Calorie Count
Calories
338 Kcal
Fat
17.5 grams
Carbohydrates
50.4 grams
Protein
13.2 grams
Method
Drain the dates, cut them into small pieces and remove the seeds.
In a small pot, put the dates and almond milk on medium heat. Let the milk simmer and reduce till it is just enough to coat the dates.
In another bigger and thick bottom pot, put the soy milk for boiling. Keep stirring in between so the milk doesn't stick to the pot. I always use a wooden spoon when cooking milk. Once it boils, reduce the heat to medium-low and let it simmer. Take out about 2 tbsp milk in a small bowl.
Add the saffron strands to the bowl and mix well to dissolve the saffron.
In a frying pan, heat ghee and roast the vermicelli for just about a minute. Sprinkle ½ tsp cardamom powder while roasting. You will love the aroma.
Even if you start with roasted vermicelli, I would suggest you roast them again in ghee for just about 10-20 seconds for the beautiful aroma.
Add the roasted vermicelli, raisins and dates with the almond milk to the simmering soy milk. Mix well and cook for about 10 mins till the vermicelli is soft and cooked through. At this point you may want to taste the Sheer Khurma for its sweetness.
If it is less, you can add a little sugar at this stage.
Add the saffron milk, half the dry fruits and cardamom powder. Mix well.
Remove into a serving bowl and garnish with remaining dry fruits and cardamoms.
Over to You
Knowing that it is healthy and tasty, it is still important to remember that the portion size matters. Focusing on quality eating is always better than indulging to maintain our weight and stay on track.