Corn and Black Bean Fajita Wraps
By Nmami Agarwal 01-Jan 2022 Reading Time: 2 Mins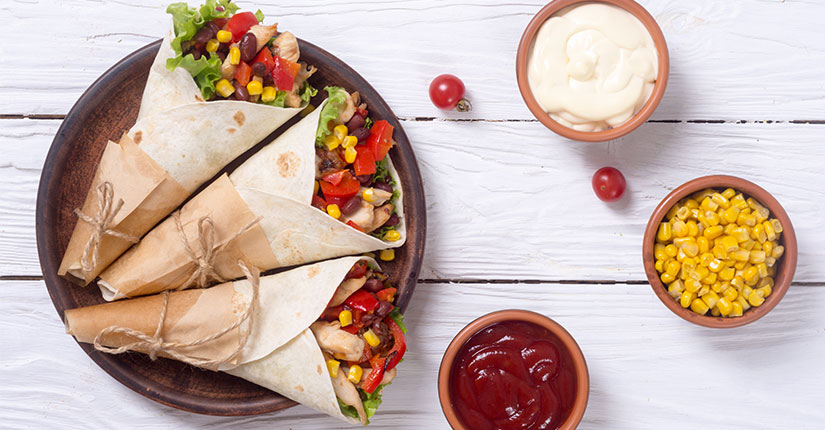 Corn and Black Bean Fajita Wraps are a simple yet delicious dish which is made with the goodness of colourful vegetables. It is a perfect dish to be tried upon with amazing taste.
Nutritional benefits
Black beans are an excellent source of protein and calcium, magnesium and folic acid. They are the best suitable protein alternative for all the vegans out there. Corn is rich is in Vitamin B12, folic acid and iron which helps in the production of red blood cells in the body.
Ingredients:
1 whole wheat tortilla
20 grams red bell pepper
10 grams black bean
20 grams onion
10 grams corns
1 spring coriander leaves
10 grams cucumber
½ teaspoon lime juice
Salt as per taste
1 teaspoon olive oil
Calorie Count
Calorie
154.4 Kilocalories
Protein
4.1 grams
Carbohydrates
19.5 grams
Fat
8.9 grams
Method:
Firstly, heat some oil in a sauce pan and add finely chopped onions.
Then add finely chopped red bell pepper, corns, boiled black beans, cucumber and cook for a few minutes.
Add the coriander leaves, spices and add lime juice and mix well.
Now take tortilla sheets and cook them thoroughly from both sides on a non-stick pan.
Spread the vegetable mixture on it.
Roll it to form a wrap and serve hot.
Over to you:
So, enjoy this light and easy recipe in your dinner or lunch time. It's good to be packed in lunch boxes too. Your kids will surely love it.