Cool Cucumber Salad
By Nmami Agarwal 30-Apr 2021 Reading Time: 2 Mins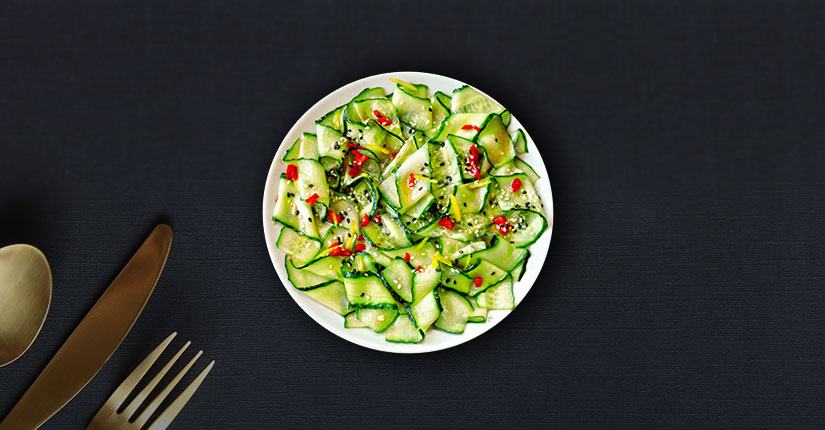 Cool cucumber salad is crisp yet well balanced as it is simple. It is healthy and can be made throughout the year. The combination of cucumber and sesame helps in getting rid of dehydration and the crunchiness of both is extremely delicious and loved by all. This light and refreshing salad has a delicate flavor and is the perfect sidekick to summer meals.
Nutritional benefits:
Cucumber is refreshing, high in water content, and offers a wide range of health benefits by preventing dehydration, obesity, and diabetes. It is high in potassium which helps in reducing bloating or flatulence. Sesame seeds are good in fiber and help in lowering blood pressure.
Ingredients:
50 grams cucumber
½ teaspoon balsamic vinegar
¼ teaspoon salt
1 teaspoon sesame seed

Calorie count
Per Serving:


Nutrition Info
Amount
Calories
34 kcal
Carbs
2.3 grams
Protein
1.1 grams
Fats
2.4grams

Method:

1. Wash the cucumber and cut in middle and remove off the seeds.
2. Cut the cucumber into thin slices and wrap it in a paper towel to remove excess moisture.
3. Take a small bowl and add vinegar, salt and sesame seed. Mix it well and pour over the sliced cucumbers
4. Toss it well and serve.

Over to you:

This simplicity of cucumber salad makes it great. It can be enjoyed guilt-free as it is hydrating and is a great option for the summer sunshine!