Coconut Cauliflower Gravy
By Nmami Agarwal 29-Jun 2020 Reading Time: 2 Mins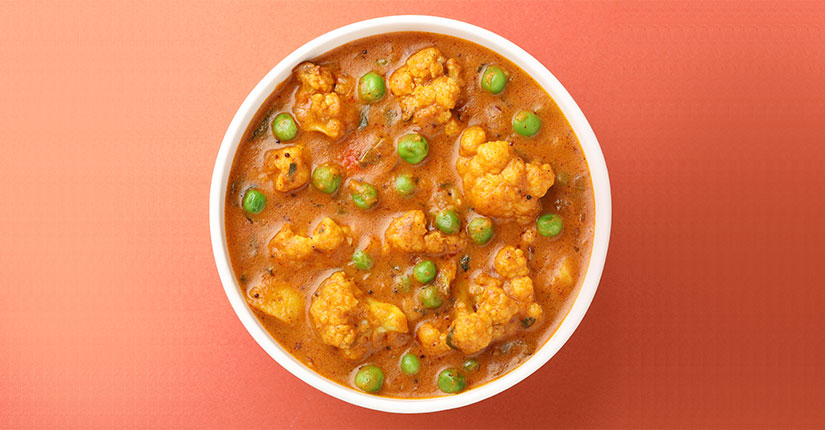 Coconut Cauliflower Gravy is a perfect blend of cauliflower and bell peppers made using coconut milk to give it a creamy and milky flavour. You can relish this curry along with rice or chapatis for a delightful experience.
Nutritional Benefits:
Cauliflower is a low calorie, cruciferous vegetable. It is anti-inflammatory and is rich in antioxidants which boosts immunity, heart and brain health. Coconut milk is linked with boosting up the immune system because of the presence of lauric acid that has anti-inflammatory and anti-microbial properties.
Per Serving:

Nutrition Info
Amount
Calories
145.1 kcal
Carbs
8.3 grams
Protein
3.7 grams
Fats
10.2 grams
Ingredients:
40 grams cauliflower florets
20 grams onion
20 grams bell peppers
½ teaspoon cumin seeds
10 grams curd
10 grams besan
¼ teaspoon coriander powder
10 ml Coconut milk
2-3 cloves
1inch cinnamon stick
¼ teaspoon ginger powder
¼ teaspoon red chili powder
1 teaspoon olive oil
Method:
To start with, whisk together curd, besan, red chili powder, ginger, salt, coriander powder and coconut milk.
Add water and keep aside for a few minutes.
Heat the oil in a pan, add cumin seeds, cinnamon, cloves, onions and bell peppers. Stir well and add cauliflower.
Once they turn tender, add the coconut milk mixture. Cover and cook for 5-8 minutes on high flame.
Serve hot.
Over to you:
Try out this creamy and tasty recipe and pamper yourself with its delicious flavour.