Asparagus Noodles
By Nmami Agarwal 26-Jul 2022 Reading Time: 2 Mins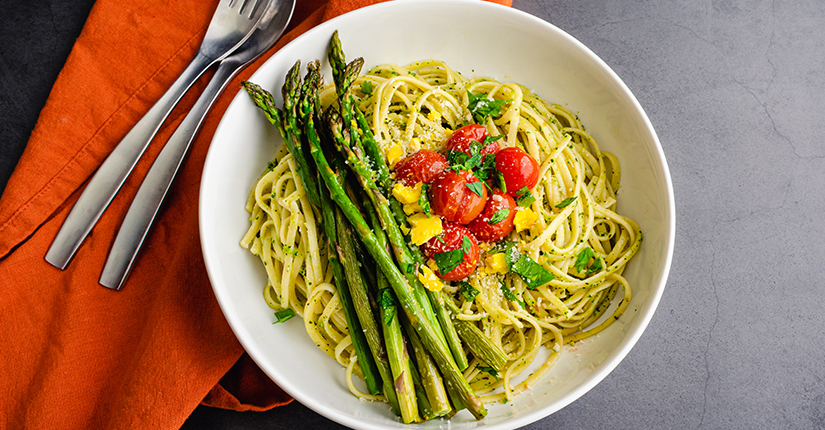 Are you craving noodles but worried about empty calories? Here's the Asparagus Noodles recipe, a healthy swap to satisfy your cravings.
Nutritional Benefits
Asparagus is rich in fiber, folate, Vitamin A, C, and K and is great for gut health. Both asparagus and basil leaves have antioxidant properties and help reduce inflammation. This recipe is loaded with vitamins, and minerals and is nutrient-dense.
Calories
Calories Count
245.6 Kcal
Protein
7.3 Grams
Carbohydrates
9.6 Grams
Fats
22.1 Grams
Ingredients
150 Grams Asparagus
½ Cup Basil Leaves
2 Tbsp. Parsley
1 Garlic Clove
1 Tbsp. Olive Oil
¼ Tsp. Red chili flax
1 Cup Baby Arugula
½ Tsp. Lemon Zest
½ Tbsp. Pine Nuts
Method
With the help of a peeler shave the Asparagus into thin wide ribbons.
In a food processor, pulse basil leaves, parsley, pine nuts, garlic, olive oil, and salt. Grind them all until it turns smooth pesto.
Heat a pan, add oil, then noodles, asparagus, chili flax, salt, and black pepper. Cook until asparagus is tender.
Add arugula and cook for 1-2 minutes. Then add pesto and 1 tbsp. water and toss well until it coats. Season some lemon zest.
Noodles are ready to serve.
Over To You
Asparagus noodles are perfect for when you crave the calories but need them to be healthy ad interesting.