Delightful Nutritious Delicacies of Haryali Teej
By Nmami Agarwal 23-Jul 2020 Reading Time: 5 Mins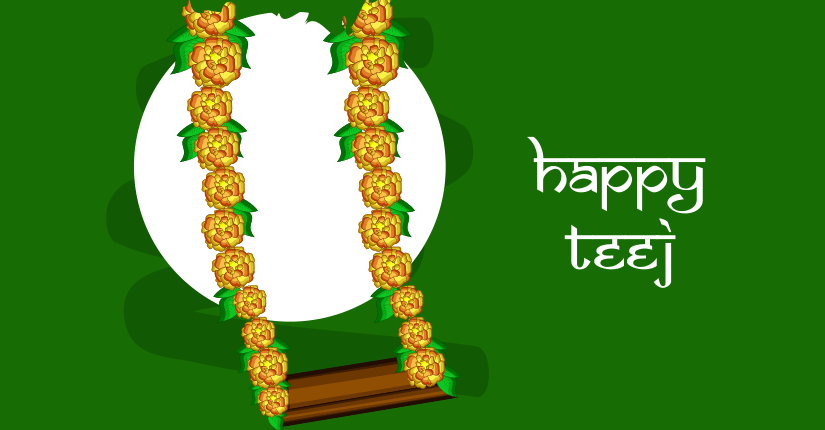 Women decked up in pretty clothes, jewelry, and henna, Hariyali Teej is a Hindu festival celebrated by married women mostly in the northern states of India, like Rajasthan, Haryana, Bihar, Uttar Pradesh, Madhya Pradesh, Bihar, Chhattisgarh, Gujarat, and Himachal Pradesh. The festival remarks on the beautiful relationship between a husband and a wife. The wives celebrate this festival with pomp and vigor to pray for their husband's wellbeing.
On this day, women observe fast for their husbands' good health and marital life. In Hindu mythology, the festival celebrates the reunion of Lord Shiva and Goddess Parvati.
Here is a plethora of Teej special recipes which you can relish during the festival at home:
Malpua

This dessert can be called the desi Indian version of a pancake, though these are more deep-fried and have a crisp to it. A pancake dessert often called India's oldest desert. Malpua is sweet, which is made of rice flour in oodles of ghee and dipped in saffron-scented sugar syrup. Similar to kheer, malpuas are generally loved by people all over northern India and they are especially popular during Teej too.

Mirchi Pakodas/vada

A significant delicacy made on the festival of Teej in the state of Rajasthan. At the festival, Rajasthani Mirchi vada is stuffed with a chili potato filling which is a deep-fried to perfect crisp and makes a perfect spicy dish for all the ones who love spicy food.

Pyaaz Kachori

A favourite Rajasthani dish of many, these round, fluffy kachoris, full of heart-melting masalas and golden-brown fried onions is relished with a combination of imly (tamarind) and coriander-mint chutney. If you love spicy food then you gotta try this snack is, this Teej! Having them with imly (tamarind) and coriander-mint chutney while sipping on hot tandoori chaai is what people love!

Bedmi Puri with Raseele Aloo

Although it might not be a dessert it is a typical dish it does top the list. Popular in north India, Bedmi puri with aloo is a meal that has flavors of aloo curry made with spices cooked into tomato gravy. Bedmi is made with semolina and aamchoor, urad dal, chilies, and other spices.

Hara Bhara Kebab

Similar to a vegetable cutlet, Hara bhara kebab is an appetizer with spices along with goodness of veggies like potatoes, spinach, peas, tomatoes, and tangy chat masala and lemon. It is a super nutritious and easy snack to try your hands on at home.

Ghewar

This yummy delicacy is round-shaped honey-comb like Rajasthani dessert dipped in sugar syrup. It is the main attraction of festivals like Teej and Rakshabandhan. The melt-in-mouth malai and nutty topping surely leaves you craving for more. The most popular 'Ghevar' in the country are mava and malai ghevars. In and around Rajasthan, it is a custom to carry a packet of 'Ghevar' whenever you are visiting a friend or a relative during Teej or Rakshabandhan.
Over to you
Some women observe ritualistic fasts and so they don't consume non-vegetarian foods. They follow a simple fruit-laden diet. After the fast is over, they indulge in some Teej special delicacies like ghewar, mathri and kachoris. Enjoy the sumptuous feast that everyone loves to have!