5 Vital Nutrients for Supple Skin
By Nmami Agarwal 23-Nov 2021 Reading Time: 5 Mins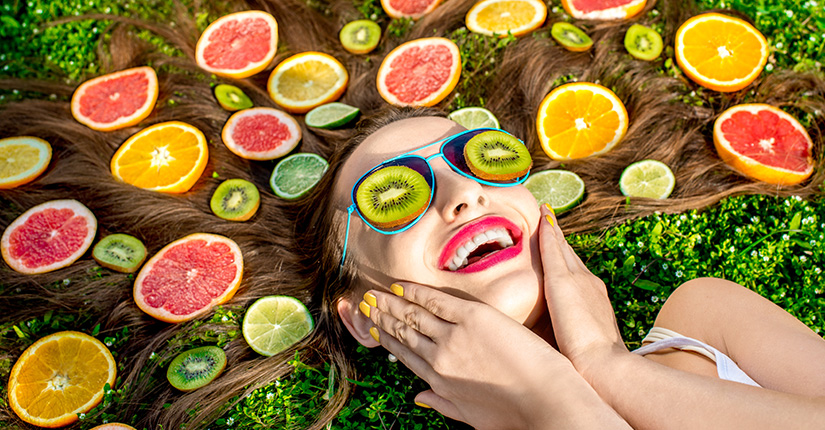 Be it men or women of all ages, everyone wants glowing, supple, and smooth skin. From fighting dry and patchy skin to dealing with breakouts and trying to keep those fine lines to the bare minimum, we all go through various phases with our skin. From applying those expensive moisturizers and sunscreen, trying those expensive facial massages or face treatments, we do everything to achieve that radiant, healthy, and youthful skin.
But do you know glowing skin not only requires outer beauty but inner beauty too? You need to thoroughly nourish the body from inside to have that radiant skin. Consuming the foods for glowing skin can make all the difference from preventing wrinkles to reducing acne to maintaining dry skin and what not. Here are some of the essential nutrients that will help you to achieve supple and smooth skin:
Vitamin-C: Vitamin C works as an antioxidant that helps in fighting against free radical damage that causes premature aging, and also plays a vital role in collagen production and wound healing. You can easily get vitamin C in your diet alone as it is found in several fresh fruits & vegetables. The best vitamin C-rich foods for the skin are oranges, lemons, strawberries, berries, kiwis and broccoli, squash, and cauliflower.
Vitamin-A: Vitamin A is another essential nutrient for healthy skin because it helps keep skin strong and firm by boosting collagen production and controlling keratin production. This also makes your skin stronger making it less prone to infections and wrinkles. The major natural sources of Vitamin A include pumpkin, sweet potato, eggs, and leafy green vegetables.
Protein: Our body converts the protein into building blocks called amino acids and uses them again to make other proteins such as keratin and collagen that have a key role in making the skin structure. Some amino acids act as antioxidants and protect skin cells against free radicals and UV rays too. Some of the protein-rich foods for supple skin are milk, paneer, yogurt, nuts, seeds, eggs, tofu, etc.
Vitamin-B3: Vitamin B3 known as 'niacin' has a great effect on skin health. It creates a barrier for the skin by protecting from sun damage, refines the skin texture, treats hyperpigmentation, keeps the fine lines and wrinkles at bay, and regulates sebum production, and controls excessive oil. Foods rich in Vitamin B3 are chicken, fish, peanuts, mushrooms, peanuts, brown rice, spinach, sweet potatoes, cabbage, and broccoli.
Zinc: Zinc is an amazing little trace mineral that can work like magic for your skin! It helps to protect our cells from UV damage, reduces skin inflammation, and promotes wound healing. There are hundreds of enzymes in the body that can't work without adequate zinc, so a deficiency becomes obvious on the outside very quickly. Symptoms of zinc deficiency include fatigue, delayed wound healing, open skin sores, and hair loss. Foods containing this mineral include oysters, meat, legumes, and seeds.
Over to you:
A healthy diet rich in all the essential nutrients like Vitamin C, Vitamin B3, zinc, proteins, Vitamin E among others supports in developing beautiful, soft, and supple skin by reducing fine lines, wrinkles, dark circles, and hyperpigmentation. Besides diet, if you are still planning to include supplements for skin glow, then it is recommended to speak to your doctor first to avoid any reactions.