Three Quick and Mouth Watering Mango Dessert Recipes to Try at Home
By Nmami Life Editorial 21-May 2020 Reading Time: 6 Mins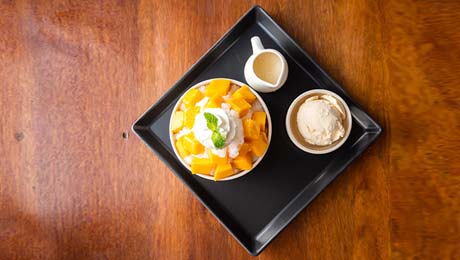 Saw fresh mangoes at the local grocery store and felt tempted to try something sweet and mango-ey at home?
Mangoes are an indispensable part of summers. Summers call for mangoes and what better than some rich and fulfilling, nutrient-dense mango dessert recipes to relish. You can try these recipes with various varieties of mangoes available in India like kesar, badami, dasheri, langda, safeda, totapuri, chausa, neelam, alphonso (hapus) and others. 
Bored from mango salad, mango shakes, aamras and juices, and craving the restaurant-style falooda? Try your hands on these ever-so-delicious healthy, quick and easy mango delicacies:
A delicious and popular mango falooda recipe is made with fresh mango puree, chopped mangoes, and mango ice cream. A must-try recipe for mango lovers.
Method: To make falooda, you can use thin vermicelli or seviyaan made from whole wheat flour. Boil them in water till they are cooked completely & softened. Run some water and rinse the cooked falooda sev thoroughly and then drain the water. Keep aside covered. Allow them to cool completely at room temperature. Meanwhile, slice two mangoes and blend it to form a puree. In a serving glass, add 1 tablespoon of rose syrup. Then add 2 tablespoons of sabja seeds/sweet basil seeds (soaked overnight). Next, add 2 to 3 teaspoons of falooda sev to 3 tablespoons mango puree. Add 1/4 of cup milk. Repeat the layers again in the same order and top it with chopped mangoes. You can also top with a scoop of mango or vanilla ice cream and some chopped or sliced dry fruits.
Phirni is a deliciously creamy pudding made with sweet mangoes and rice. It is a popular North Indian sweet pudding made with rice, milk and dry fruits.  It is a dish mostly found at Indian weddings or made at home during festive occasions or special celebrations like Diwali. 
Method: On a low flame heat, cook 3 cups of milk in a thick bottomed kadhai or pan. Keep stirring at times so that the milk does not scorch from the base. Add the ground rice granules when the milk begins to boil. Add 4 teaspoons of coconut sugar. Stir at intervals and cook the mixture on low heat. Keep on stirring in breaks so that lumps are not formed. Also, scrape the sides often and add it to the simmering milk. Remove from the flame, when you reach a thick consistency and the rice is cooked. Add ½ tablespoon sliced or chopped pistachios, 1/2 teaspoon cardamom powder, and 1 teaspoon chopped dried rose petals and a pinch of saffron. Mix well. Cover the pan with a lid and let the phirni cool at room temperature. Add the mango puree and mix gently to a uniform consistency. If it gets too thick, then you can add 2 to 3 tablespoons of warm milk to it. Now spoon the mango phirni in bowls. Garnish with 1 tablespoon of sliced pistachios or rose petals. You can put it into bowls and refrigerate mango phirni for 3 to 4 hours. 
Mango coconut ice lollies
Method: Put the mango pulp in a blender and blend until smooth. To the purée, add the lime juice, zest, coconut sugar, and mix together until smooth and evenly combined. Divide the mixture as per the cavities of your ice lolly mold. Put the mold in the freezer and chill for 30-45 minutes or until just starting to freeze. Insert the lolly sticks and leave to freeze for at least 4 hours overnight. To remove the lollies, dip the mold in normal plain water for a few seconds, and then carefully remove the lollies. Sprinkle each one with a little extra coconut powder to serve.
Over to you
Indulge in the pulpy, soft, juicy, and luscious mangoes and the reason why the king of fruits is truly a favourite across all age groups is justified here. During the sweltering summer heat, chilled and sweet mangoes come as quite a relief. Try our dessert recipes to enjoy in the peak afternoon post-lunch and binge on these healthy delicacies.